Has Japan always been your dream?
Have you always wanted to try once in a life wearing a Kimono or fighting with a Katana as Samurai did?
If yes, our "Experience Japanese Culture Firsthand" is exactly your cup of tea!
About our "Experience Japanese Culture Firsthand" activities
Thanks to our "Experience Japanese Culture Firsthand" you can experience the true essence of the Japanese Traditional Culture through our wide range of activities that will raise even more, not only your curiosity, but also your passion for Japan.
Here are our must-try "Experience Japanese Culture Firsthand" activities.
Moreover, both adults and children are welcome!
🔹Kimono and Yukata Wearing Experience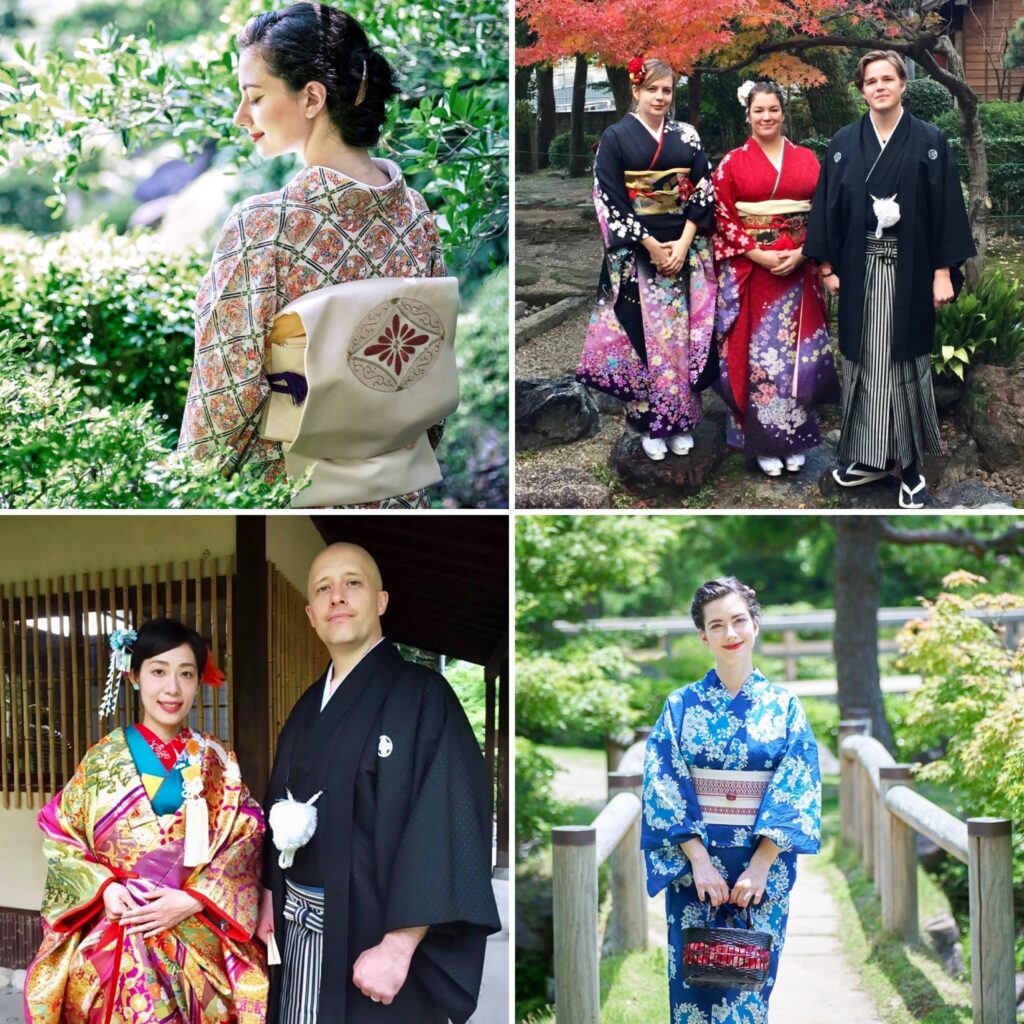 Let's wear a lovely Kimono or Yukata while sightseeing!
Professional staff will help you both in choosing the colors and patterns of your Kimono or Yukata, obi belt and geta sandals and getting dressed. For example, you can choose an exquisite silk Kimono with colors and patterns reminding the current season. You can also get your make-up and hair done to suit your Kimono or Yukata.
Moreover, for unforgettable memories, it is possible to choose your favorite location for amazing portrait photo shoot and sightseeing while wearing Kimono or Yukata.
Of course, also men and children can experience this activity!
🔹Kendo Fighting Experience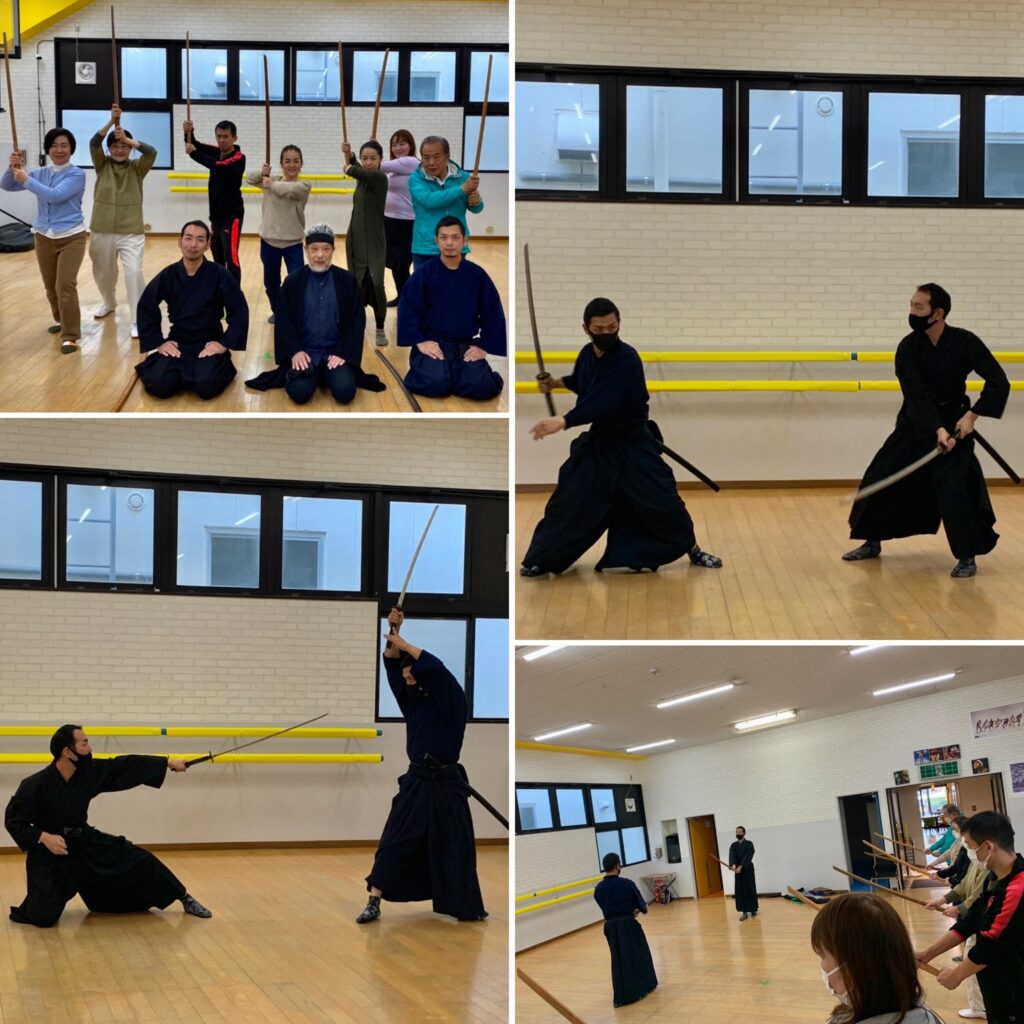 Are you searching for your inner fighting spirit?
Would you like to replicate Katana sword movements as if you were a skilled Samurai or Kamado Tanjirō from the anime "Kimetsu no Yaiba"?
Under the guidance of professional instructors you will be able to understand how film fighting scenes work as well as the meaning behind each movement while holding a (wooden) Katana yourself.
🔹Wagashi Sweets Making Experience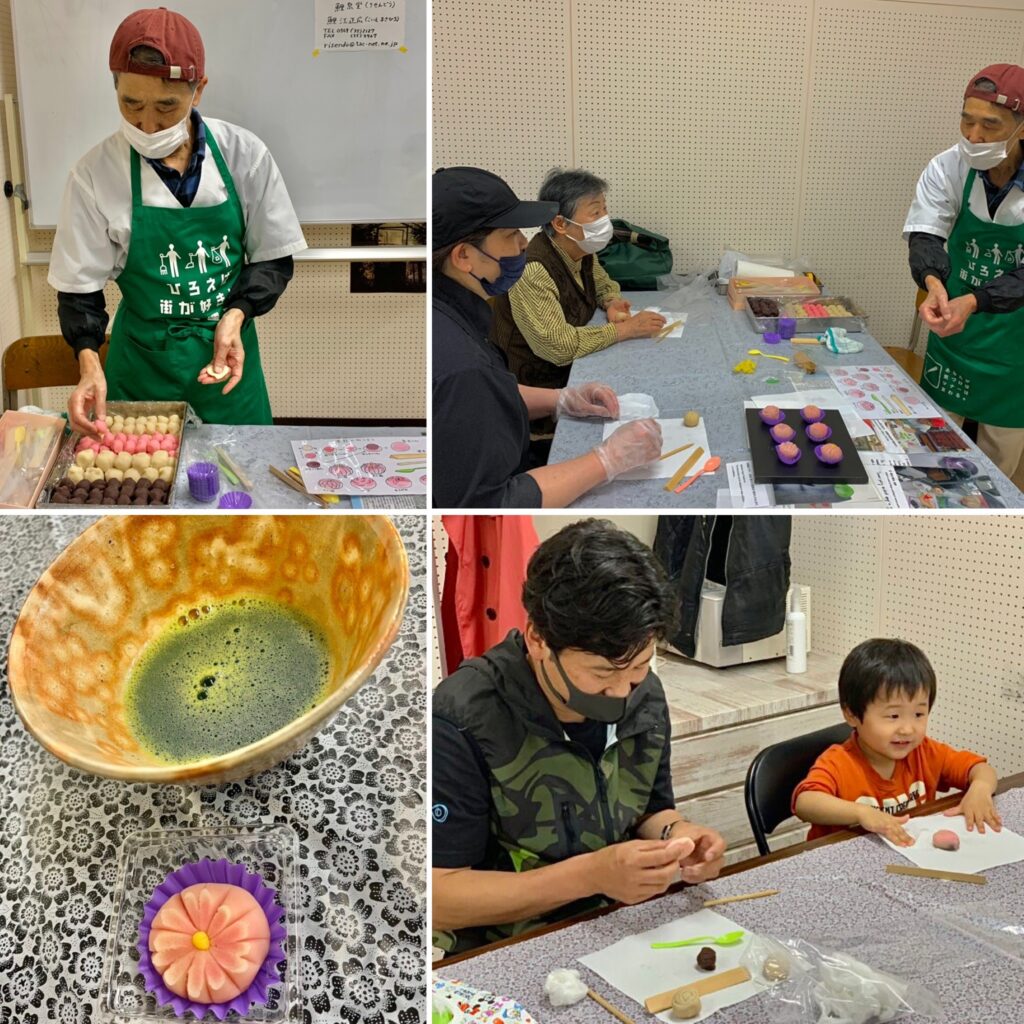 How many times have you seen Wagashi Japanese sweets in shop windows and then you thought: "They are so beautifully crafted that it is a shame to eat them!"
A Japanese Confectionery Instructor will guide you through this delicious experience concerning "Wagashi, the art of Japanese Traditional Sweets".
After the demonstration and explanation, you can make two Wagashi and choose your favorite motif, in the case of the photos above, flowers. In the end, you can enjoy your homemade Wagashi with a bowl of Matcha Tea.
🔹Koto Japanese Harp Playing Experience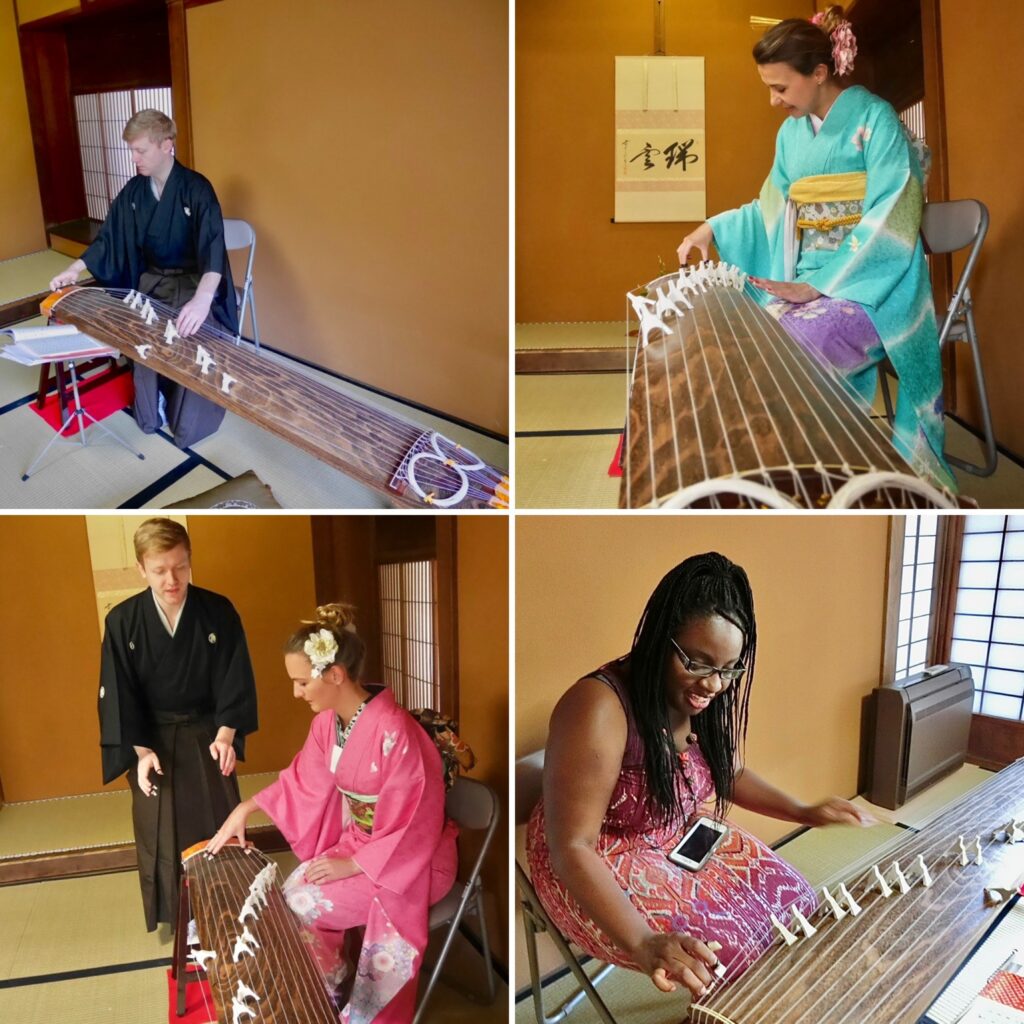 Would you like to challenge yourself with Koto, the national instrument of Japan?
Koto's elegant shape and its vibrant echo-like sound enchants music lovers from all over the world. Moreover, nowadays, many artists are trying to combine Japanese instruments with jazz, rock and pop in order to create a new kind of music that goes beyond the genres.
Through this amazing experience, you will be taught the history behind this ancient instrument and the basics of playing Koto which is known for its tuning system by changing the position of the movable bridges under the strings.
In the end, you will be able to play "Sakura-Sakura", a delightful traditional Japanese folk song!
🔹Shishimai Lion Dance Experience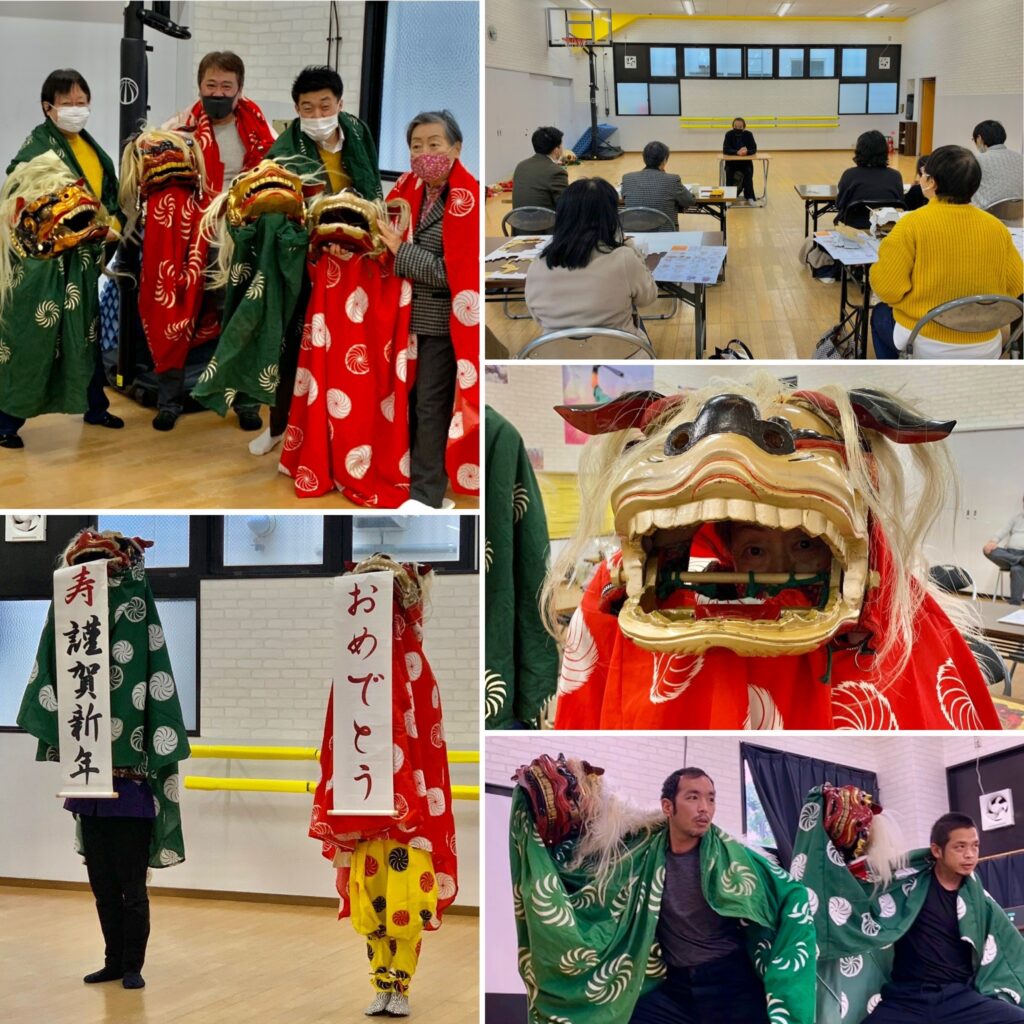 Immerse yourself in the spiritual and vibrant world of Shishimai and become a Lion, a servant of God!
Do you know that when our head is bitten by the lion, it is said that we can live in good health all year round?
Shishimai Lion Dance is a Japanese ancient tradition and it is performed on festivals, shop opening ceremonies and the first 3 days of the New Year, from January 1st to January 3rd.
Through this experience and under the guidance of experienced instructors, you will learn not only Shishimai history and its peculiarity, but you will also practice Lion Dance firsthand including basic movements and various lion actions by wearing a real wooden Lion Mask on your head!
🔹 Tsumami-Zaiku Traditional Japanese Craft Experience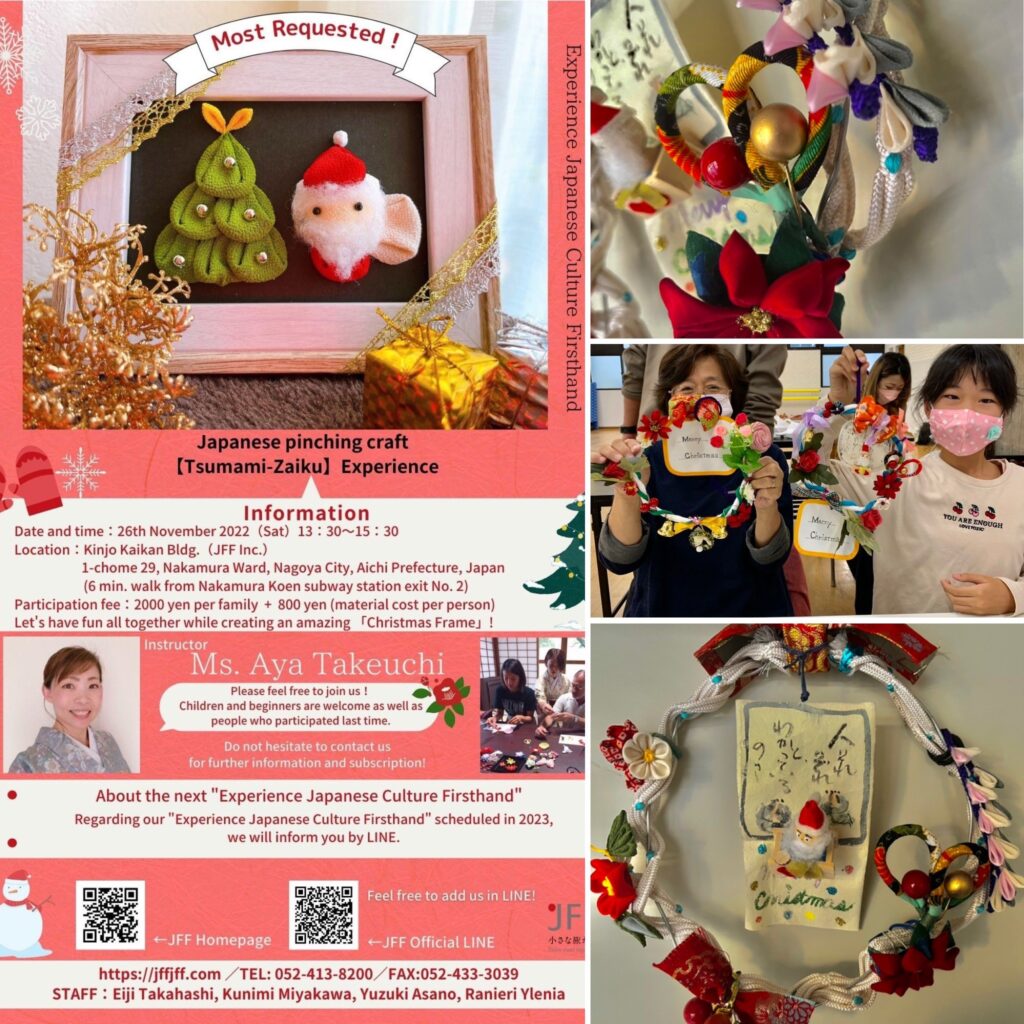 Is your hobby art and craft? Unleash your creativity by pinching and folding small and colorful pieces of old cloth such as Kimono!
Tsumami-Zaiku is an ancient traditional Japanese craft that was born in the Edo Period (1603-1868) and nowadays is getting more and more popular.
By pinching and folding small and colorful pieces of old cloth such as Kimono, you can in create delightful "Kanzashi" Kimono hairpins, combs, earrings, scarfpins as well as seasonal elegant ornaments for your home, for example a cute Moon-Viewing「Tsukimi」 frame decoration or delightful Christmas decorations as you can see in the photo above.
🔹Wadaiko Japanese Drum Experience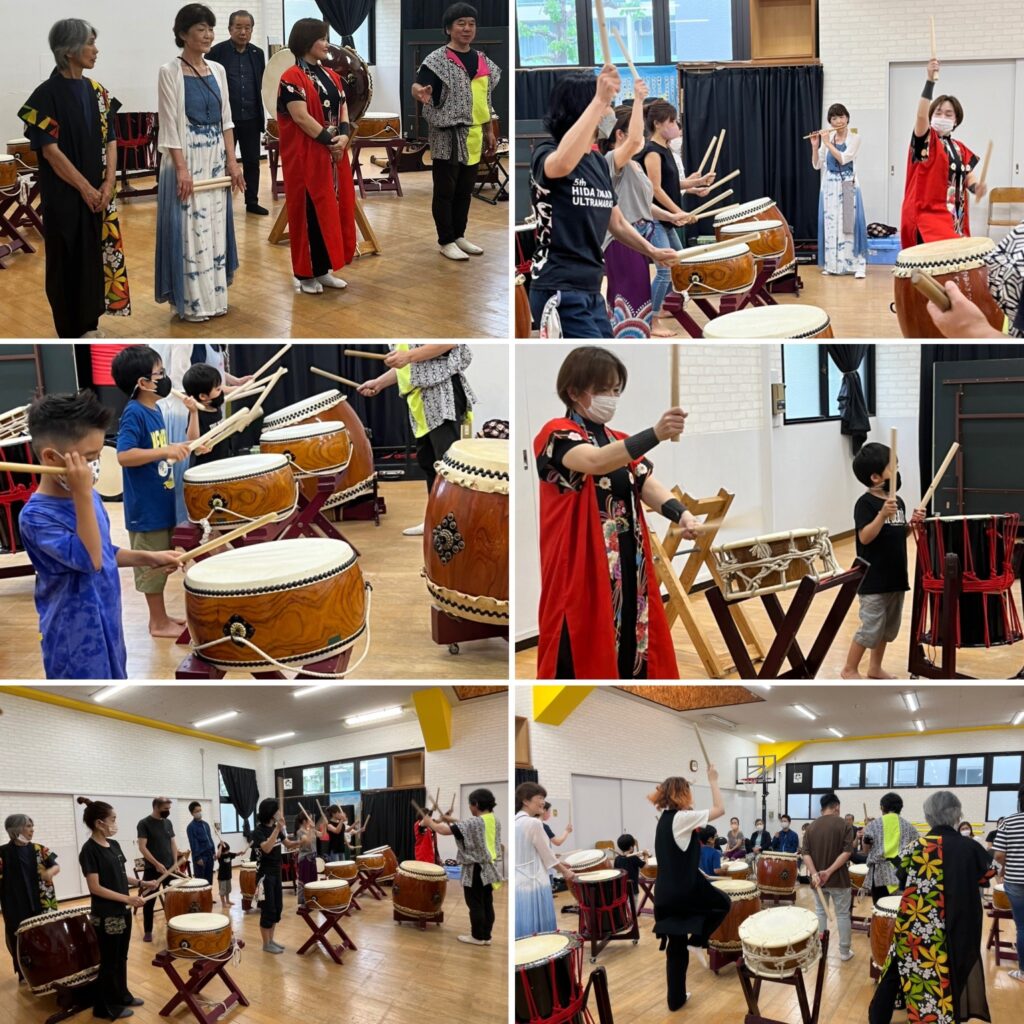 Do you like explosive beats? Join this dynamic experience and test your drumming skills through Wadaiko Japanese Experience!
Under the guidance of the leader and the members of a Wadaiko musical group, you can try playing different types of Taiko Drums and in the end you will be able to play Japanese Drums all together following the same pace as the instructors after learning the basics.
🔹Retro Kimono Reuse Workshop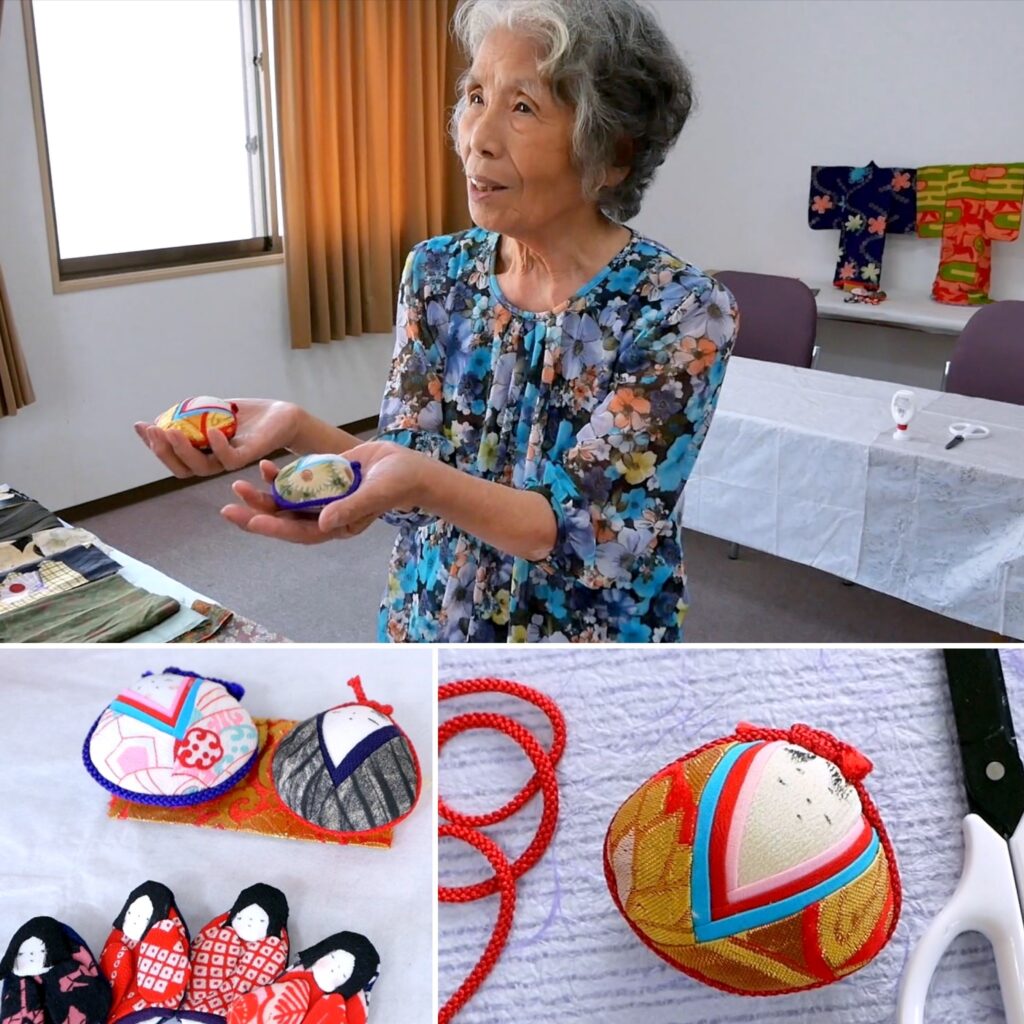 The theme of this special Workshop is about recycle and sustainable development goals.
How many times have you thrown away some items without thinking about giving them a "second life"?
Through this amazing workshop, let your creativity run free and experiment different color combinations together with your favorite patterns!
Under the guidance of an experienced instructor, it is possible to make pieces of old Kimono we do not use anymore into graceful Japanese traditional dolls and charming Japanese-style binding notebooks!
INBOUND TOURS: Beyond the Japan's Golden Tour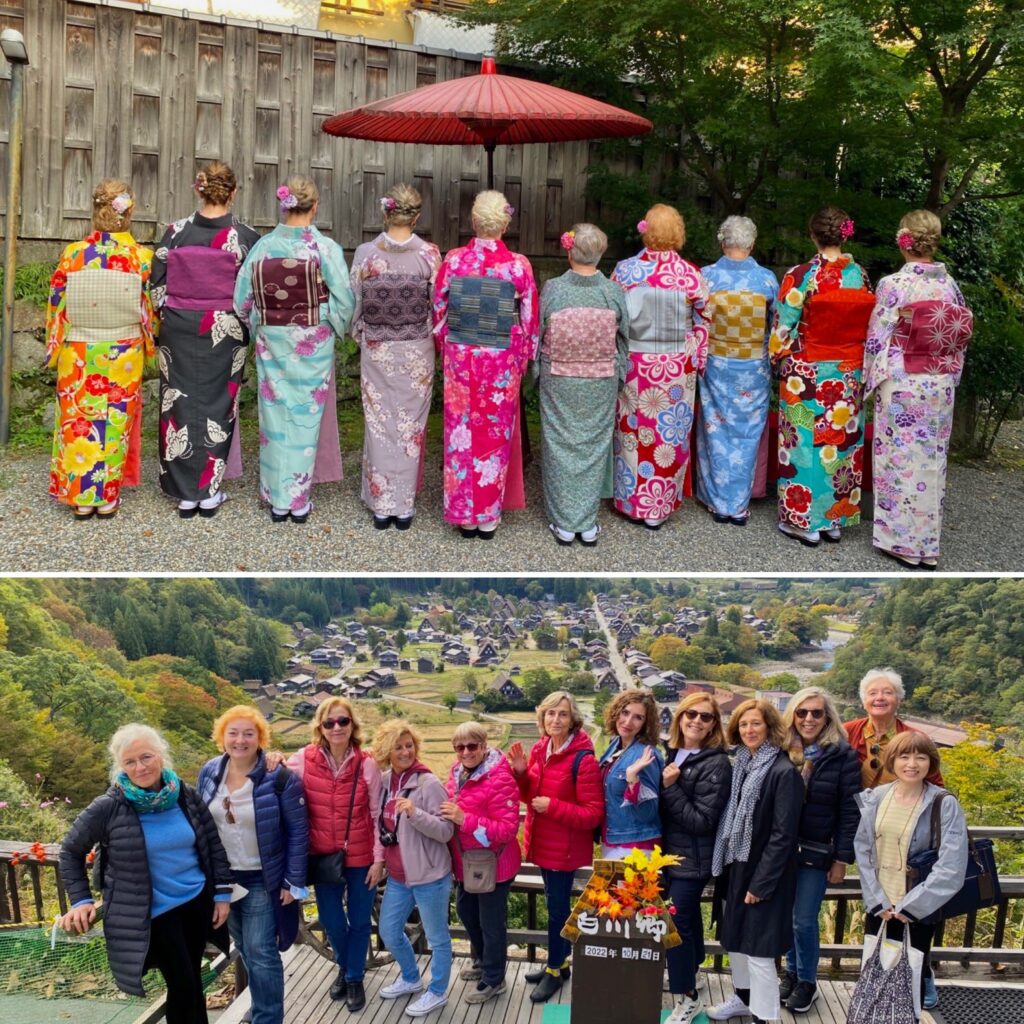 Join our Inbound Tours and enjoy Japan to the fullest!
We would like to express the beauty of travel by using the following Japanese concept: "Ichi-go Ichi-e"
which literally means "one time, one meeting", better described as "once in a lifetime".
It is important to treasure every moment in our lives because it can never be repeated even if you gather the same people together in the same place and do the same things.
This is why we aim to recreate the microcosm of the authentic Japanese Culture thanks to unique and memorable experiences and encounters. You will be able to feel firsthand the beauty of each season and "Omotenashi no Kokoro", the incredible Japanese hospitality, a way of life in Japan.