Futuristic and glamorous Ginza
Ginza is the most luxurious and sophisticated district in the western Tokyo featuring many internationally renowned department stores, boutiques, gourmet restaurants and coffeehouses. From the Meiji Era it has been influenced by the western culture, in fact we can see it from the sophisticated buildings architecture.
The origin of the name "Ginza"
Ginza 銀座 is the combination of two Kanji (Japanese ideograms): the first one 銀 Gin means "silver" and the second one 座 Za stands for an organization of people in a certain business sector. Therefore, Ginza is the name used for mints during the Edo Period and it literally means "silver mint". During this period, numerous ginzas were established throughout Japan but today's Ginza was the most notable of them all.
Kabukiza
In the middle of Ginza futuristic modern buildings, it stands Kabukiza, a Japanese traditional architectural-style Kabuki multipurpose theater. Kabuki is a classical form of Japanese theatre, mixing dramatic performance with traditional dance.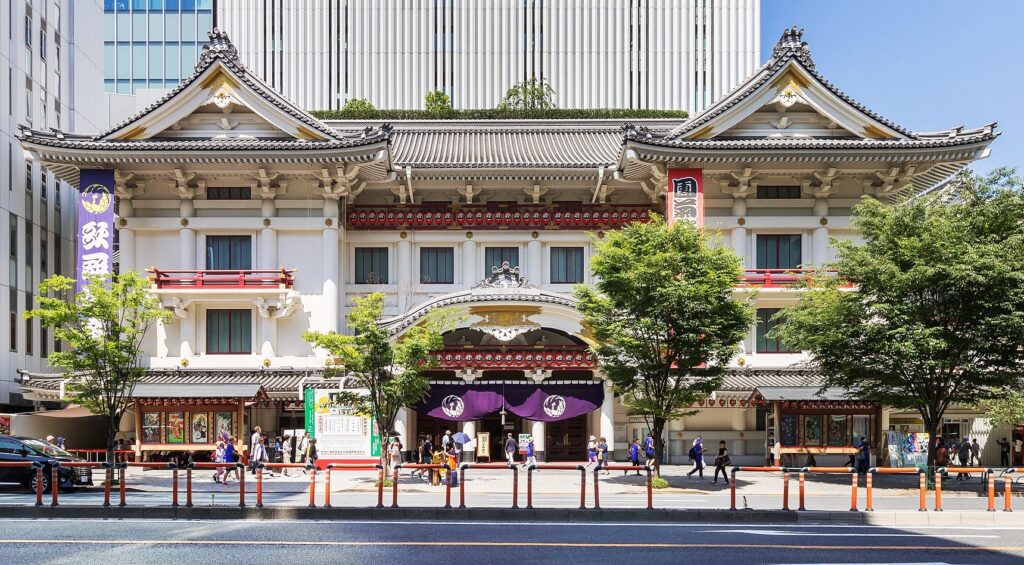 The original building dates back to 1889 but it was destroyed several times by fires, earthquake and wars. Therefore, it has been rebuilt many times adopting the architectural style typical of the era in which was built.
In 1924 Kabukiza was destroyed by a violent earthquake and, since then, the architectural style adopted was inspired by Japanese Castles.
Tokyo International Forum
Tokyo International Forum is a center used for promoting comprehensive culture and information, it also hosts exhibitions, events and concerts. Designed by architect Rafael​ Viñoly and completed in 1996, it is an imposing 7-story building made of steel and glass.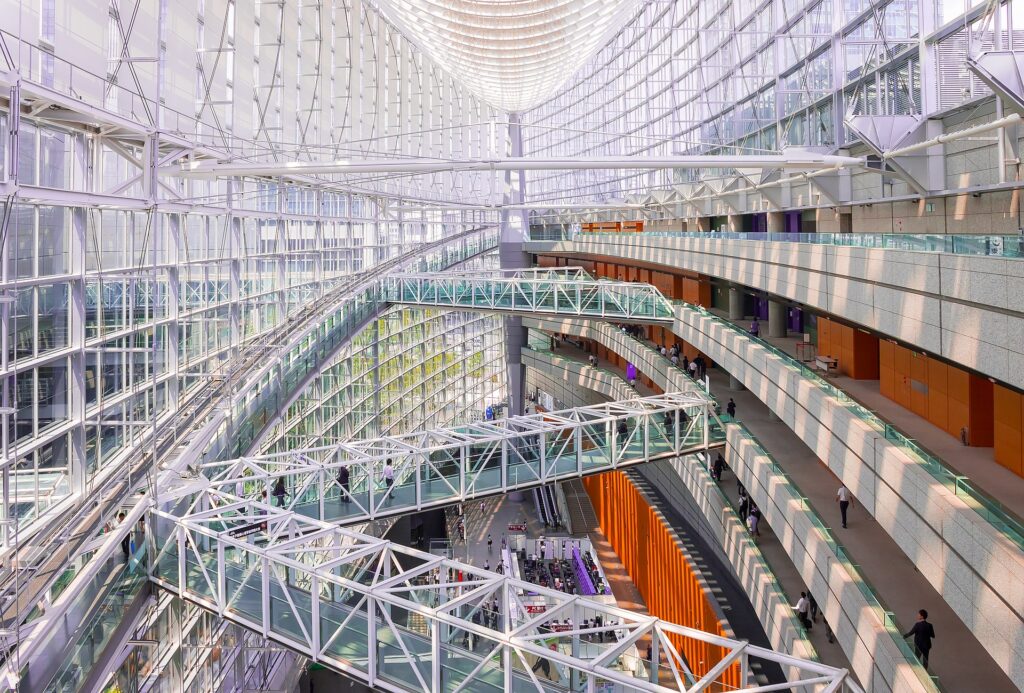 The most interesting feature are the suspended corridors that allow you to pass from one part of the building to another.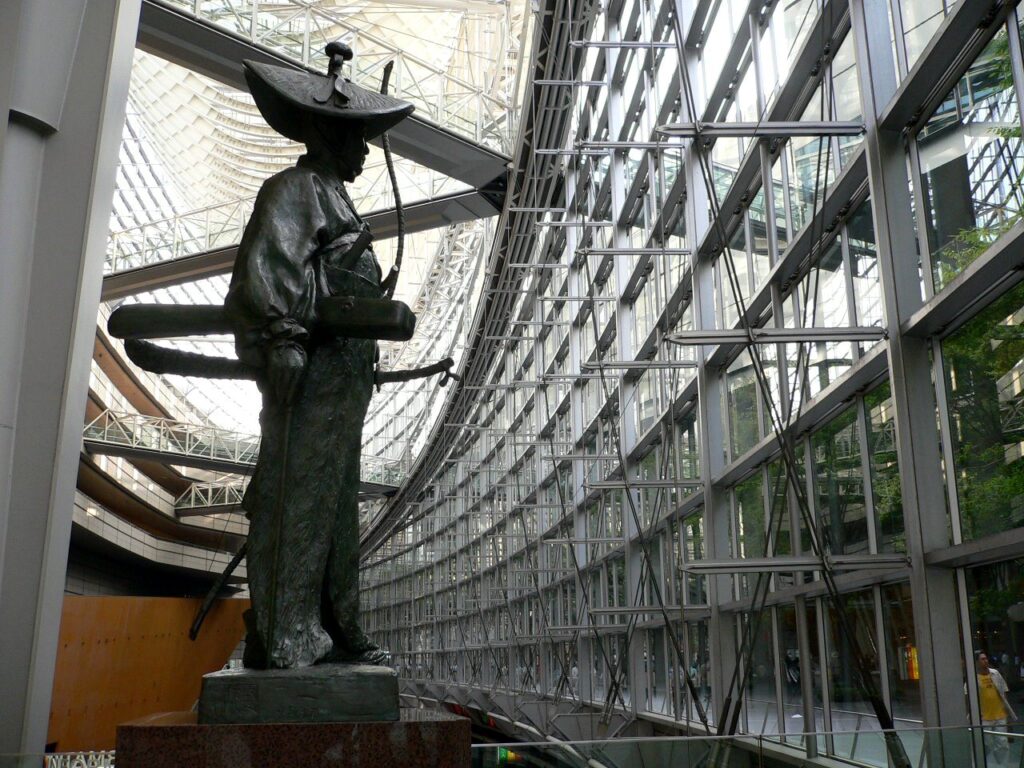 Wako
Ginza Wako is a large shopping center specialized in luxury items and jewelry. Its structure is the oldest one in the whole district, in fact it dates back to 1932 featuring a neo-Renaissance style. The clock tower topping the building is the symbol of Ginza and it represents also a popular meeting point.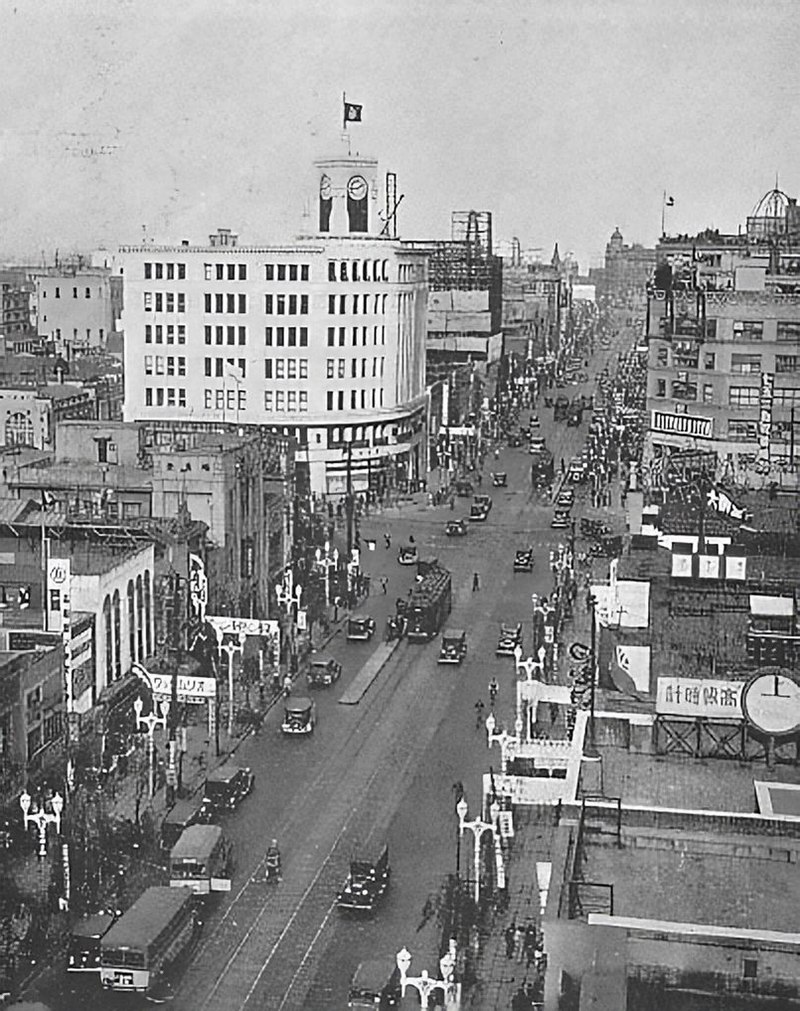 Ginza Six
Ginza Six was inaugurated in 2017 and, with its 13 floors, is the largest luxury shopping complex in Ginza area. Here, besides shopping in the most high-class famous brand such as Fendi, Dior, Vivien Westwood, Valentino, Celine and more, you can enjoy also artistic installation decorating common spaces used for exhibition areas.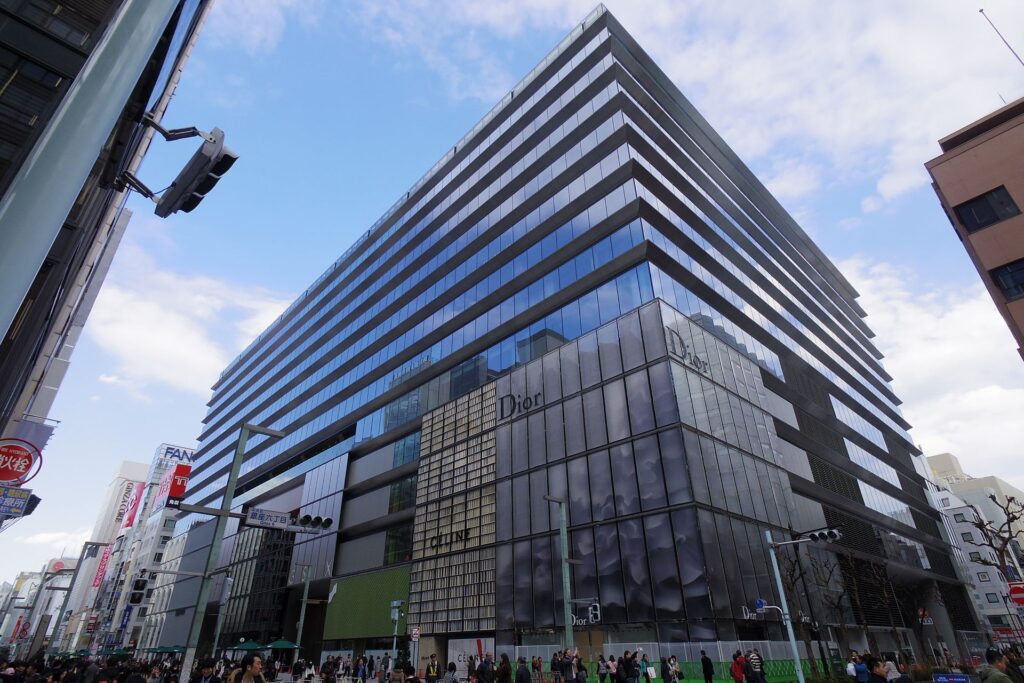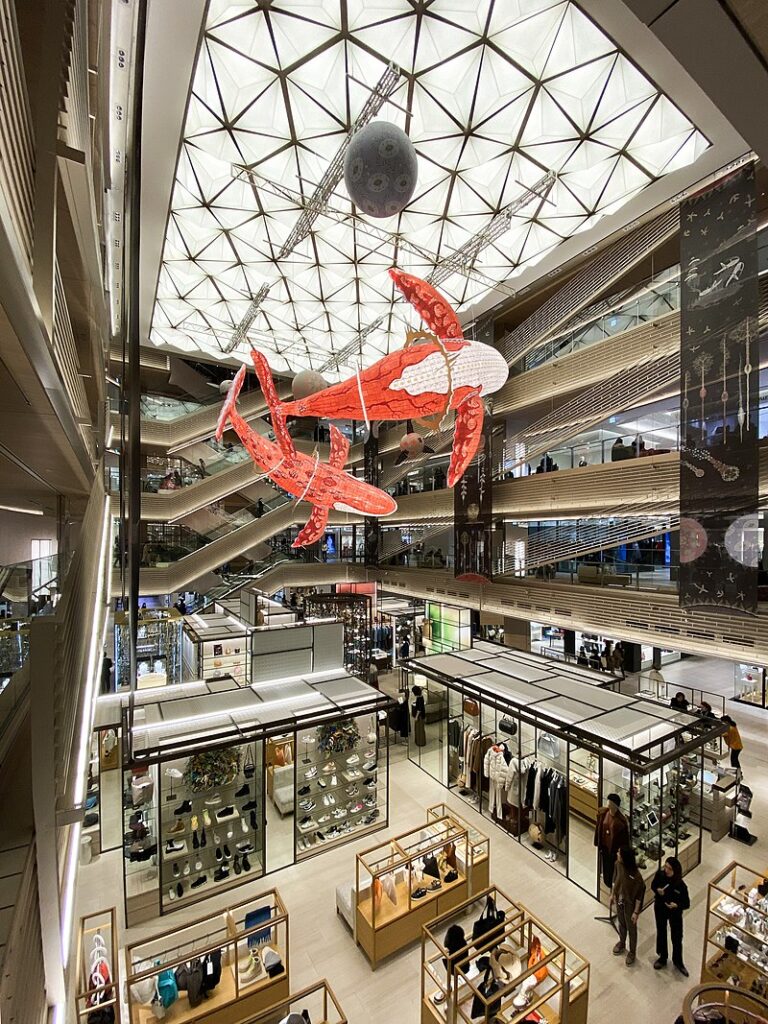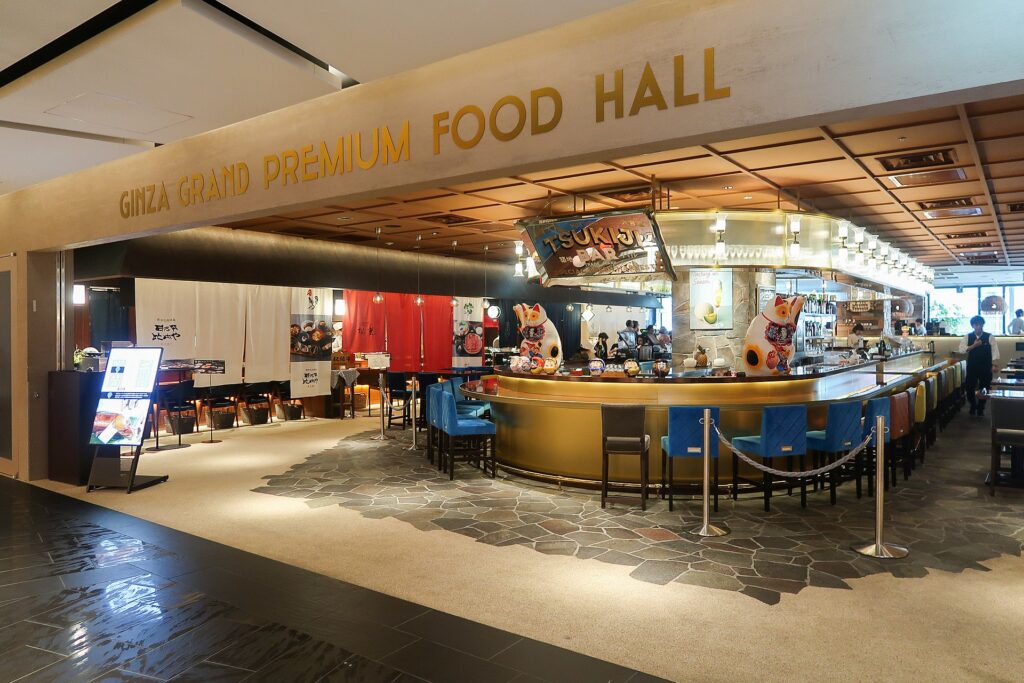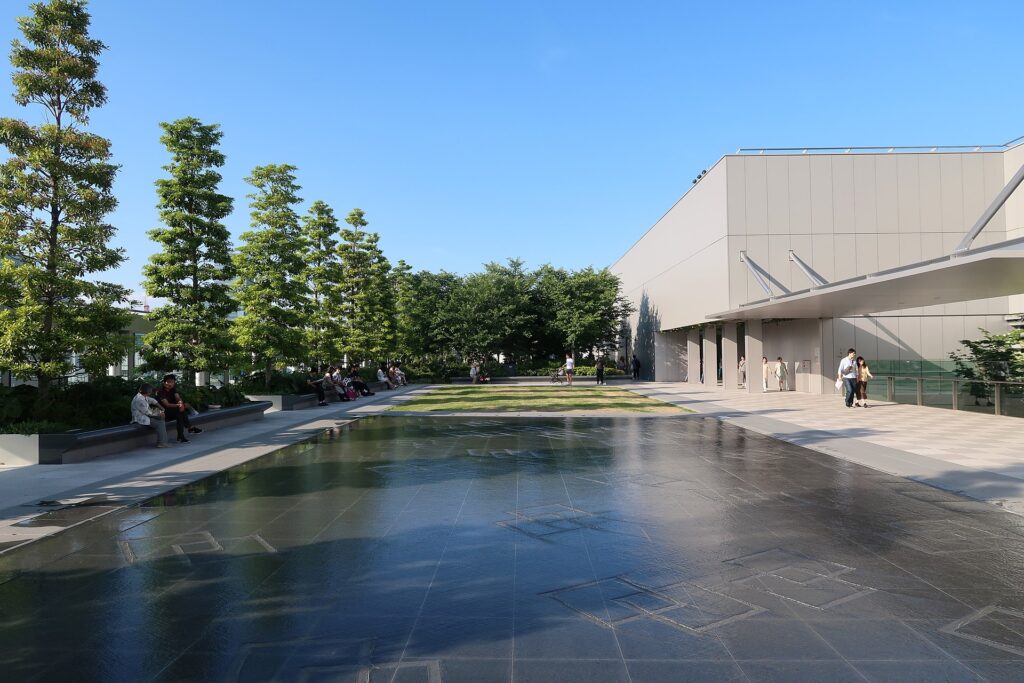 Matsuya
Welcome to the first-ever department store in Ginza Matsuya! The 1st basement floor is a real "Cosmetic World", an area dedicated to cosmetic products only, while from the 3rd floor to the 12th one you can find famous clothing, jewelry and homeware brands. The glass-panel facade is 120 meters high, the largest in Japan. Moreover, Matsuya also provides services such as foreign-currency exchange and overseas shipping at a duty-free counter.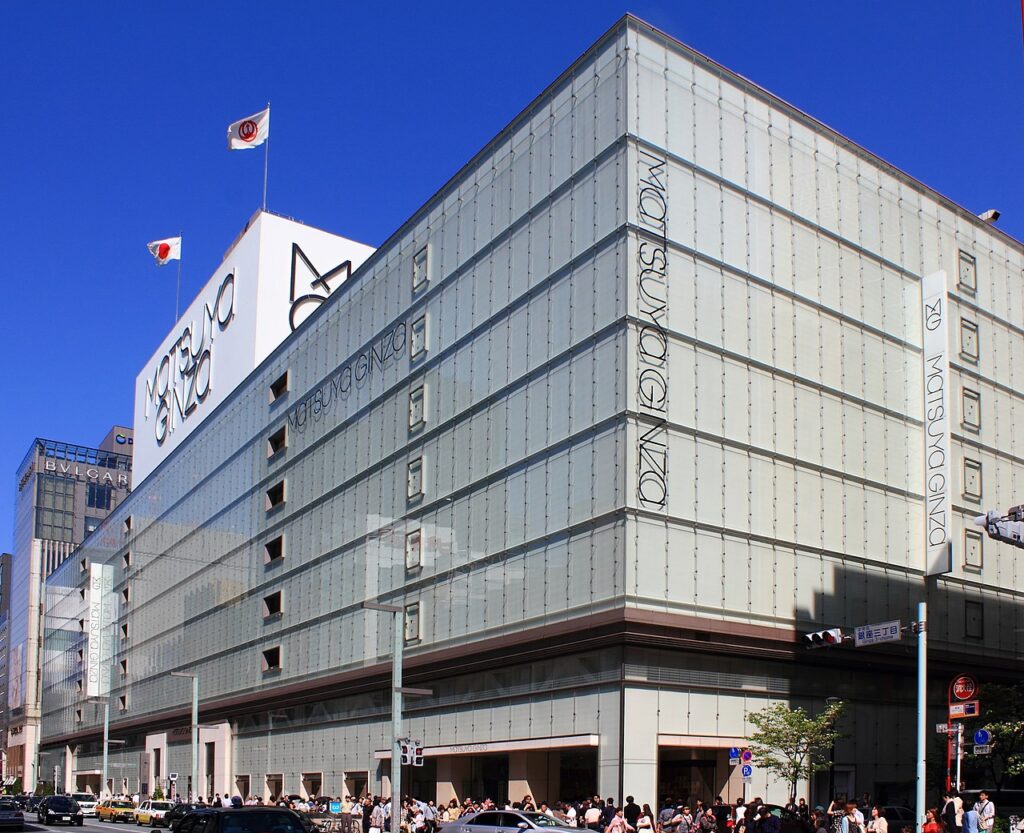 Did you know that on the rooftop of Matsuya Ginza there is a Temple The name of the Temple is "Ryuko Fudoson" and it was built in 1929. It is believed that it brings good fortune in the fashion business, hence the japanese word "Ryuko" stands for "Trends/Fashion" in English.
Ryuko Fudoson is also included in Ginza Hatcho Shrines (Shrines in 8 Ginza Districts).
Itoya
For stationery lovers, Itoya is a must-visit! Itoya is a 12-story building specialized in stationary since 1904. It boasts eight different locations in major cities in Japan, along with 6 special stores called "Itoya Topdrawer" in Tokyo, Kansai Region and even in the U.S.A.
Here you can find everything you need, from washi, the traditional japanese paper, pens, brushes, inks, printers, stickers and more. The quality and the range of choice is incredible!
Shiodome City Center
Shiodome is one of the most modern places in Tokyo, it is located in Minato area and it is only 15 min walk from Ginza. The Shiodome Sio-Site is a collection of Skyscrapers containing businesses, hotels and restaurants.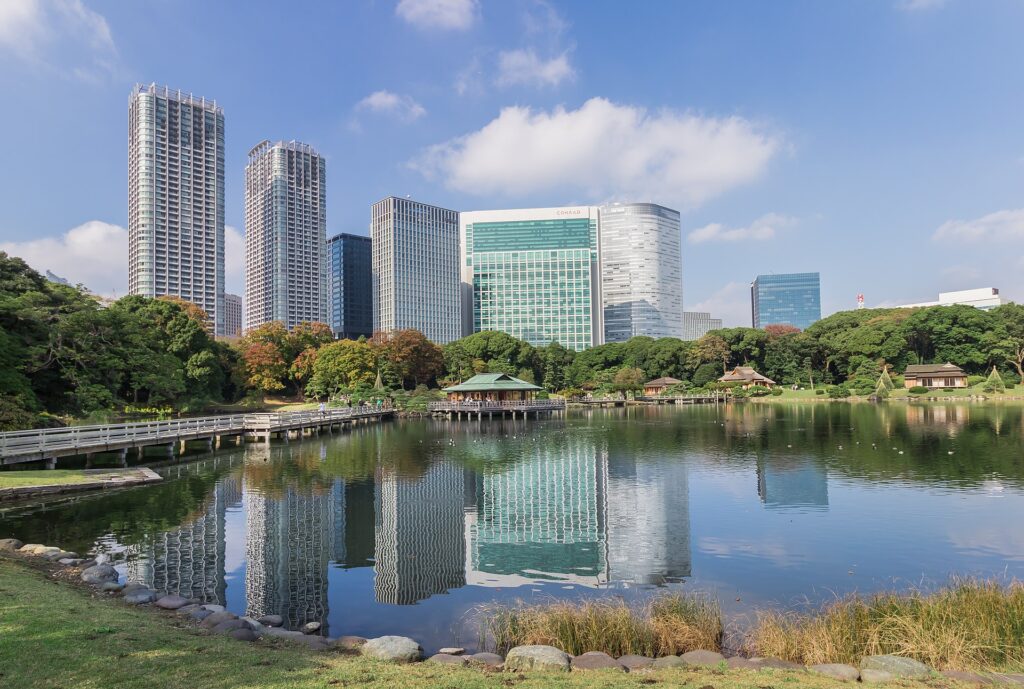 Furthermore, you can enjoy a relaxing and pleasant stroll in Hama-rikyu Garden located on the edge of Tokyo Bay, it features seawater ponds which level changes depending on the tides. There is also a teahouse on the Island where tourists can rest and enjoy the landscape.