The art of the pinch:『Tsumami-Zaiku』Experience 🪢✂️ (Christmas Edition)
Hi everyone 👋
My name is Ylenia. I am an italian girl who is fond of Japan and who loves to broaden her knowledge about both the Japanese Language and the Japanese Culture. 🇯🇵❤️
You might already know about our "Experience Japanese Culture Firsthand" events, don't you? 😎
✨I am glad to announce that " [Tsumami-Zaiku] Experience" is back again✨
We were deciding about our next "Experience Japanese Culture Firsthand" and, since [Tsumami-Zaiku]was the most appreciated and requested one, we decided to hold it again but this time with a different theme: CHRISTMAS ❄️ ☃️🎄🎅🏻
Again, we had the honour of having Ms. Aya Takeuchi as our instructor. She lives in Toyota City (Aichi Prefecture) and started Tsumami-Zaiku as a self-taught artist 9 years ago. She was very helpful and she guided us through the whole creation process, moreover, her explanations were very clear and understandable 💯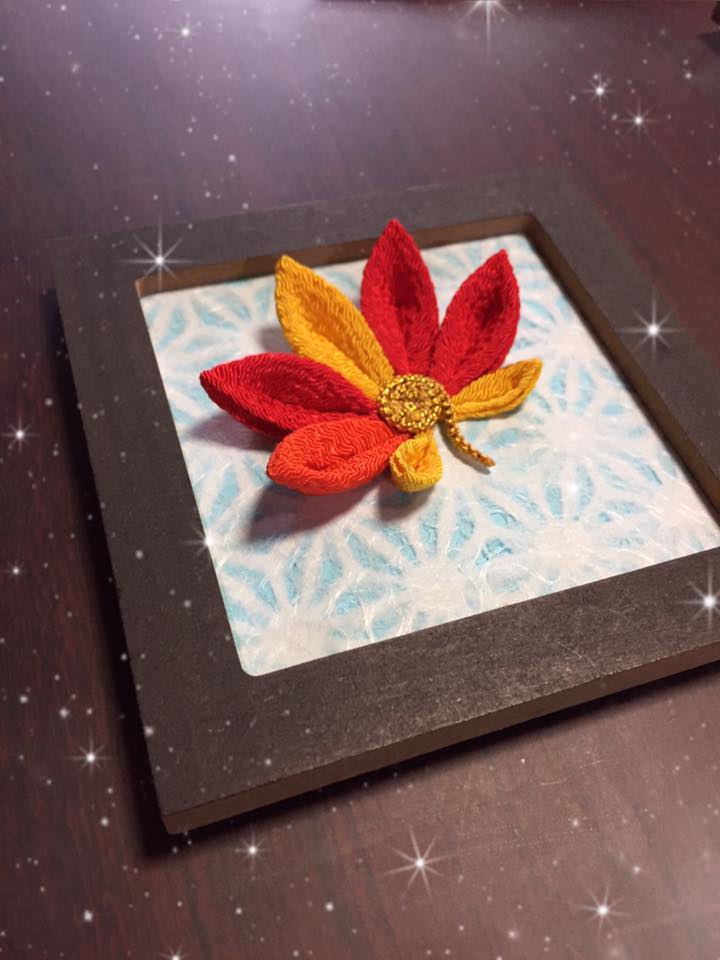 About [Tsumami-Zaiku]
"Tsumamu" ➡️ "To pinch"
"Zaiku" ➡️ "Small work"
【Tsumami-zaiku】, also known as -The Art of the Pinch-, dates back to the Edo Period (1603-1867) 😯 in Kyoto.
This is a traditional Japanese craft made from small and colourful pieces of old cloth such as Kimono 👘 (the fabric is usually silk crepe), they are pinched and folded with tweezers. During the Edo Period, Tsumami-Zaiku was not a traditional Japanese craft of accessories but original creations to put inside paulownia wood boxes. Nowadays Tsumami-Zaiku is getting more and more popular.
You can create daily charming objects such as earrings, combs, kanzashi (ornamental hairpins), headbands, scarf pins, and so on, or elegant ornaments for your home 😍 The designs are various, you are spoilt for choices! Remember that "nature" and "animals" are the keywords‼️
Nagoya Christmas illuminations🌠
Look at Nagoya Christmas illumination photos I took in the end of November 📸😊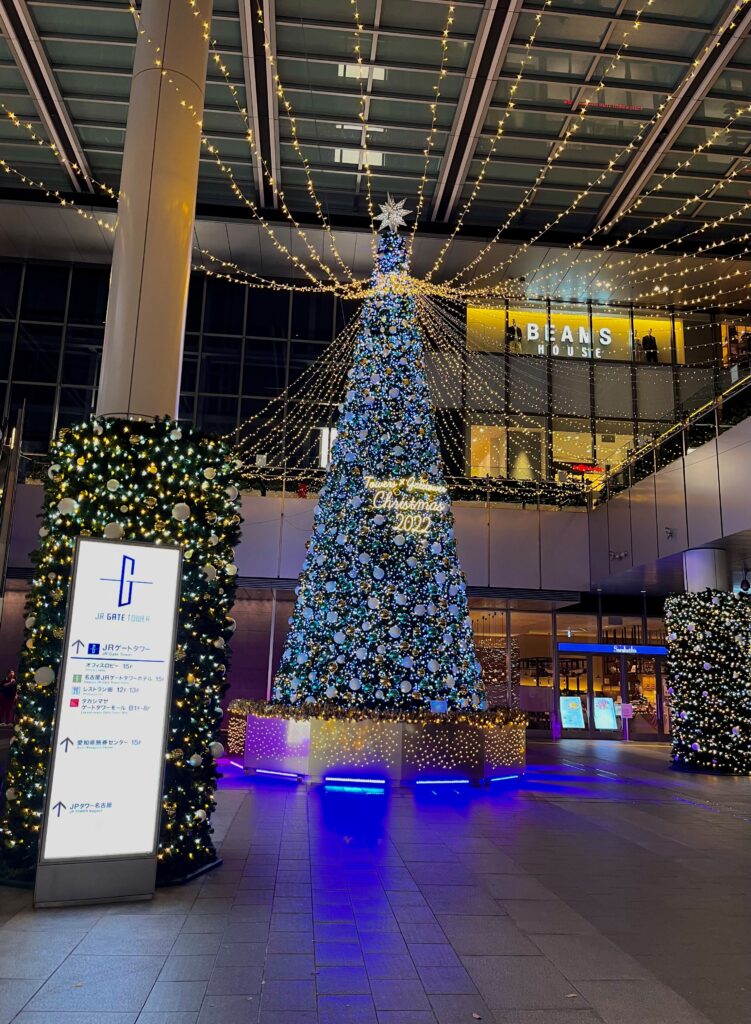 This "PikaPika sparkling Nagoya" is amazing, isn't it❓😁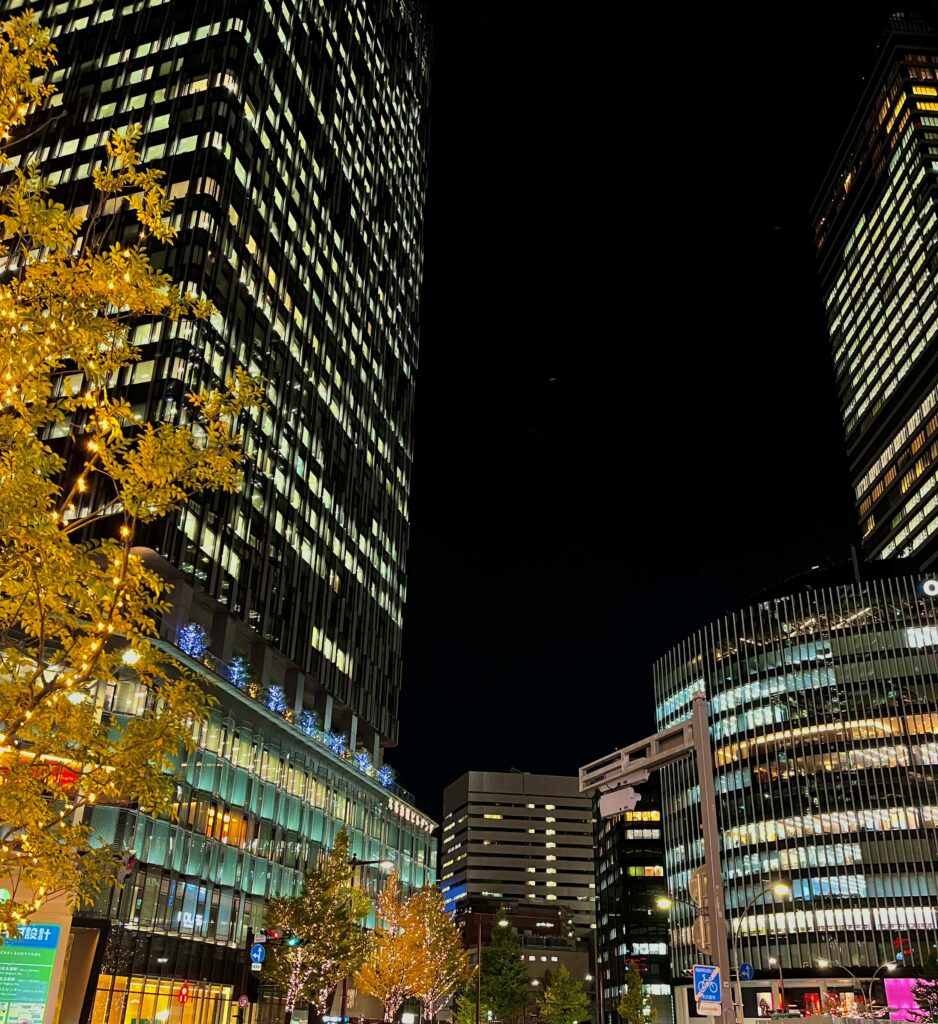 Let's get into the Holiday Spirit even more with today's【Tsumami-zaiku】theme‼️
⬇️
Christmas frame decoration 🎅🏻🎄❄️🌟
Today we are going to create this delightful Christmas frame decoration 🤗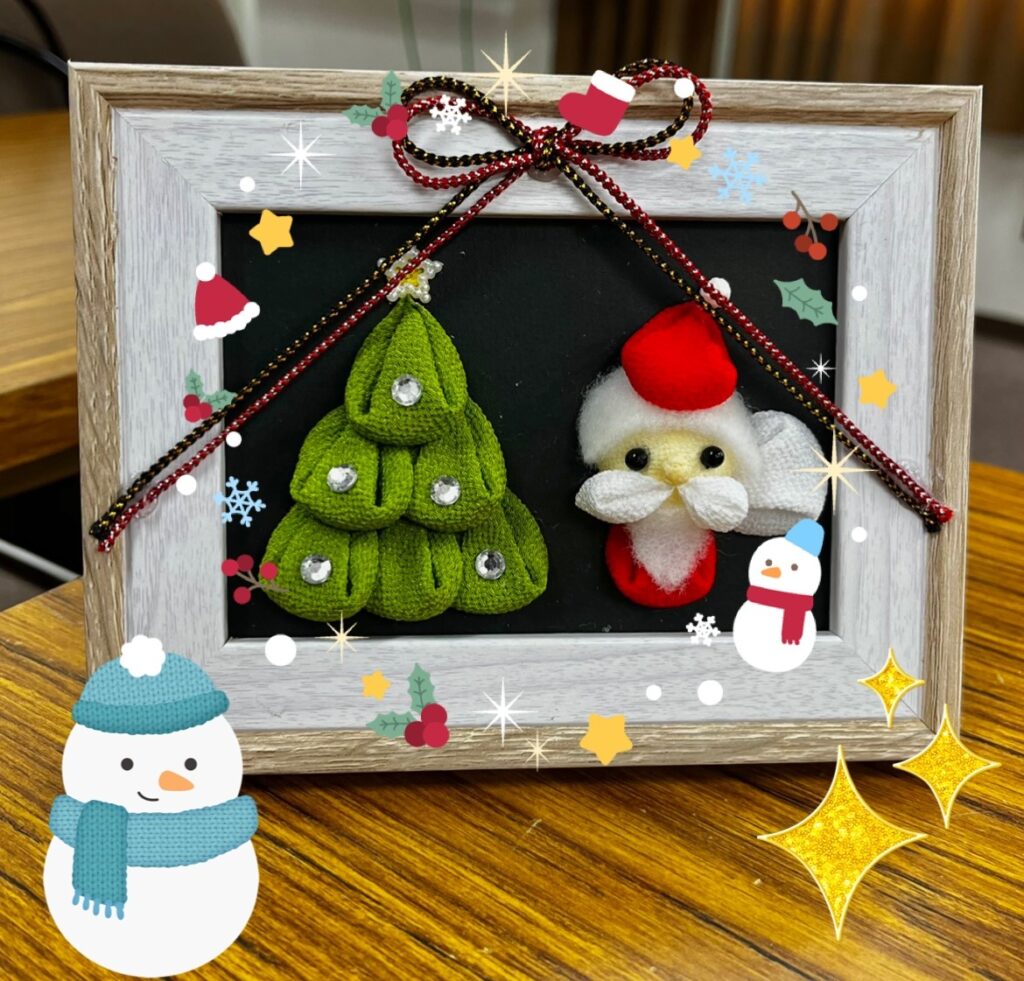 Materials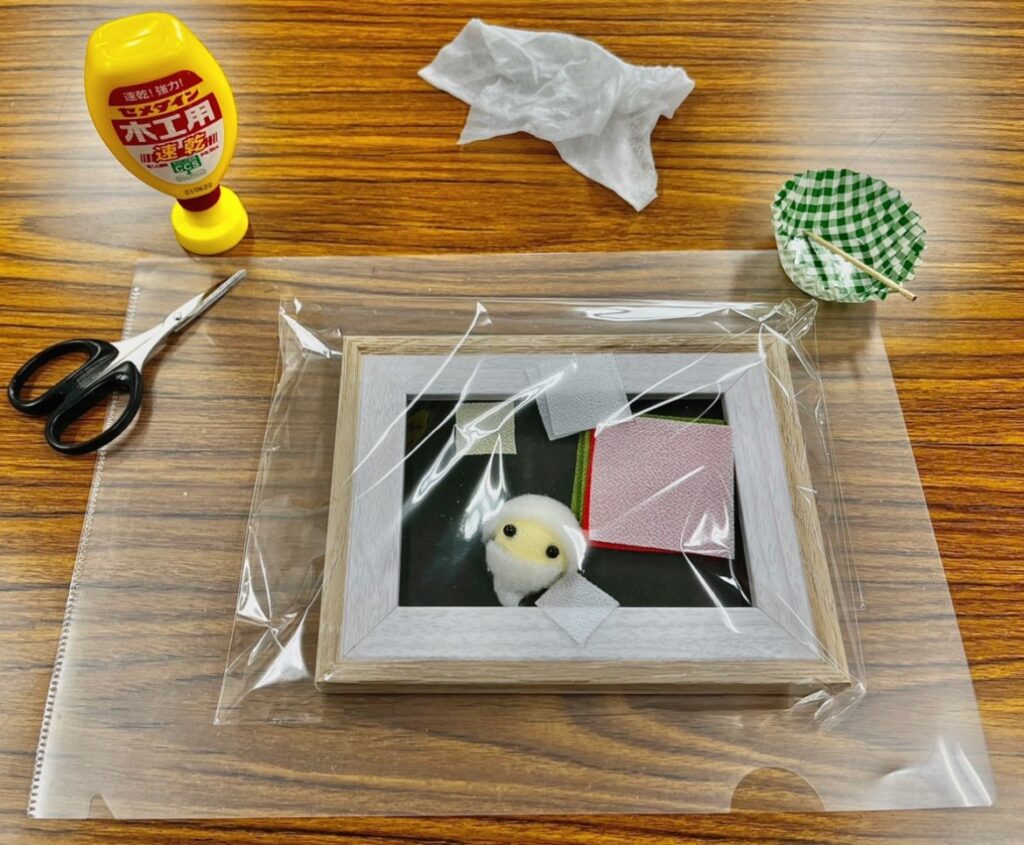 Let's see the materials in detail❗️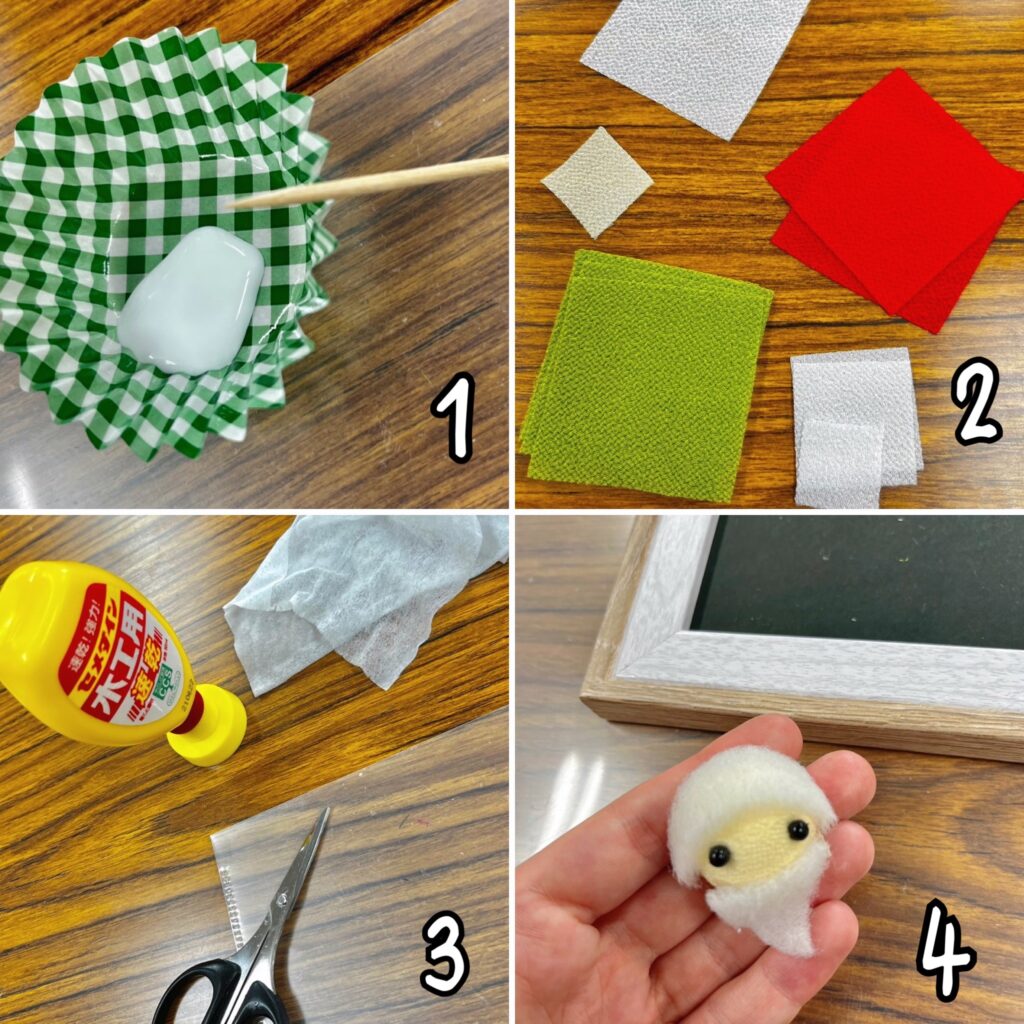 1. Cupcake paper cup and a toothpick
2. Small pieces of cloth cut into a square/rectangular shape with different sizes: green (6), red (2), white (4), cream color (1),
3. Scissors, starch glue, and wet wipes
4. Frame and Santa's face (Santa's face is made of a 2cm-styrofoam half-ball on which has been attached a small piece of cream color cloth, cotton for the beard and hair and two plastic ball beads for the eyes)
NO needle or thread is needed ✌️
PROCEDURE
1. Put the starch glue inside the paper cup
2. MARU (ROUND) TSUMAMI METHOD: CHRISTMAS TREE, SANTA'S HAT, BODY and SACK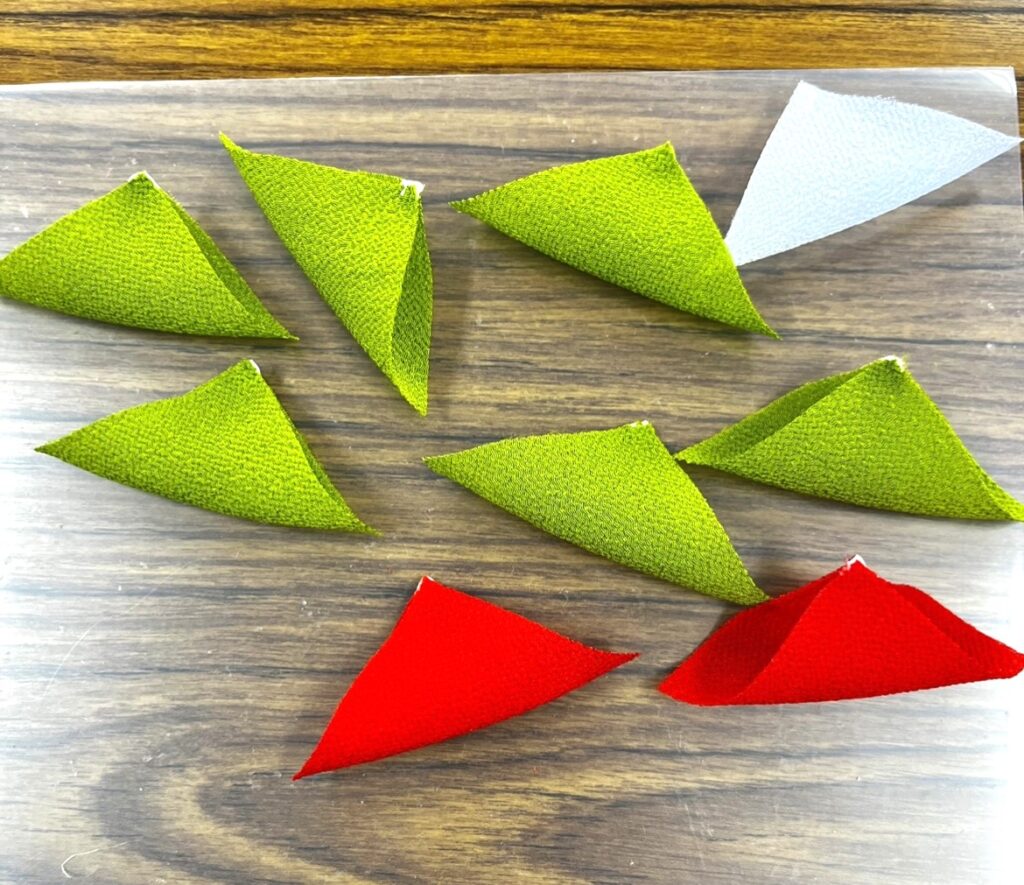 Pick up the square-cut piece of cloth (green, red and white) and put some glue on one corner, then attach the opposite side on it. You will get triangle-shaped pieces of fabric as per the image below. I don't know why but the more I looked at them, the more they remind me of the half moon-shaped italian ravioli pasta or Kyoto's Yatsuhashi 😋
Following up on the previous photo, flatten them a bit and put some glue on the two corners on the base by using the toothpick. Fold the corners as if you want to make a smaller triangle and pinch them together with the extremity (be sure to match the corners of the cloth) so they adhere to each other.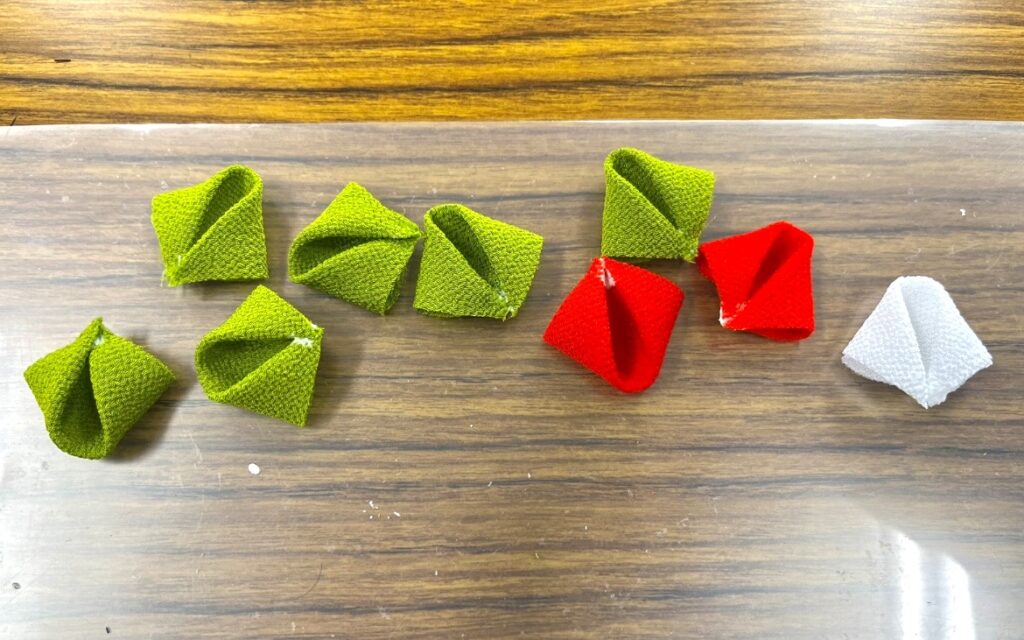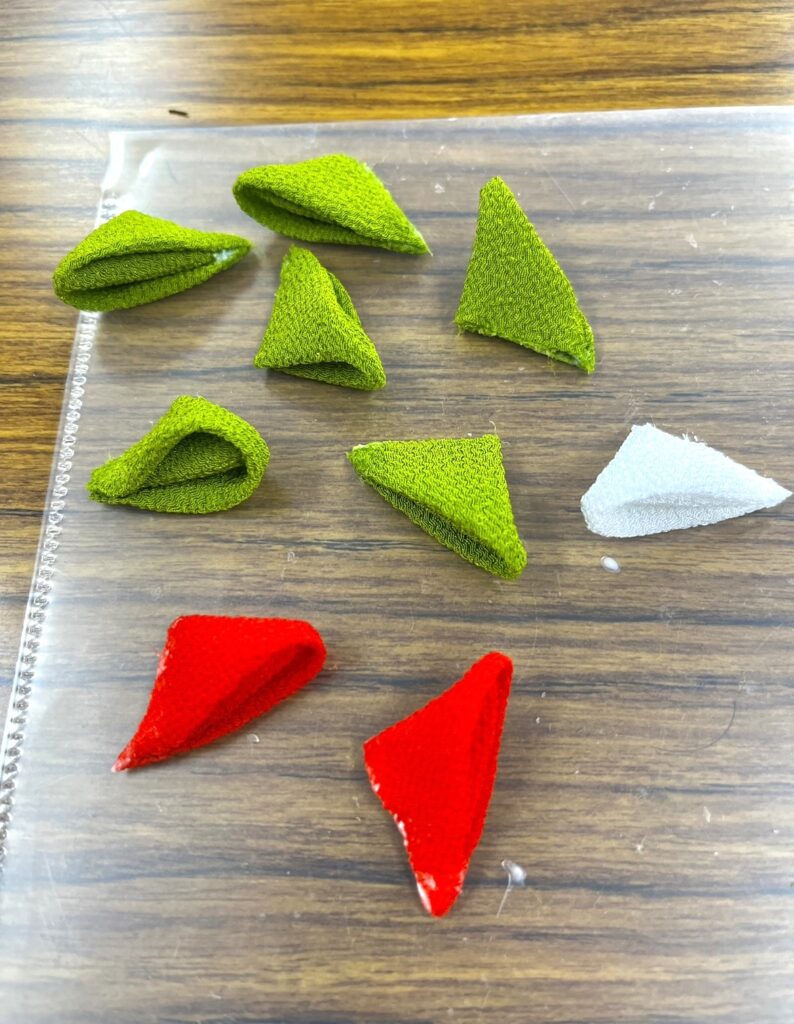 Following up on the previous photo, bend backward both of the sides (they are similar to little wings) and pinch them together, be sure to match the corners of the cloth. Put some glue on the base and pinch the glued part until the layers of the cloth are pasted together.
Following up on the previous photo, bend backward on of sides, again.
(be careful not to put too much glue on the edge of the base because then it will be difficult to open backward the sides)
The result looks like a cute barn owl's heart-shaped face 🦉
Moreover, as you can see, the shape of each cloth is roundish, hence the name "Maru (round) Tsumami" 🙆‍♀️ 🙆 ⤵️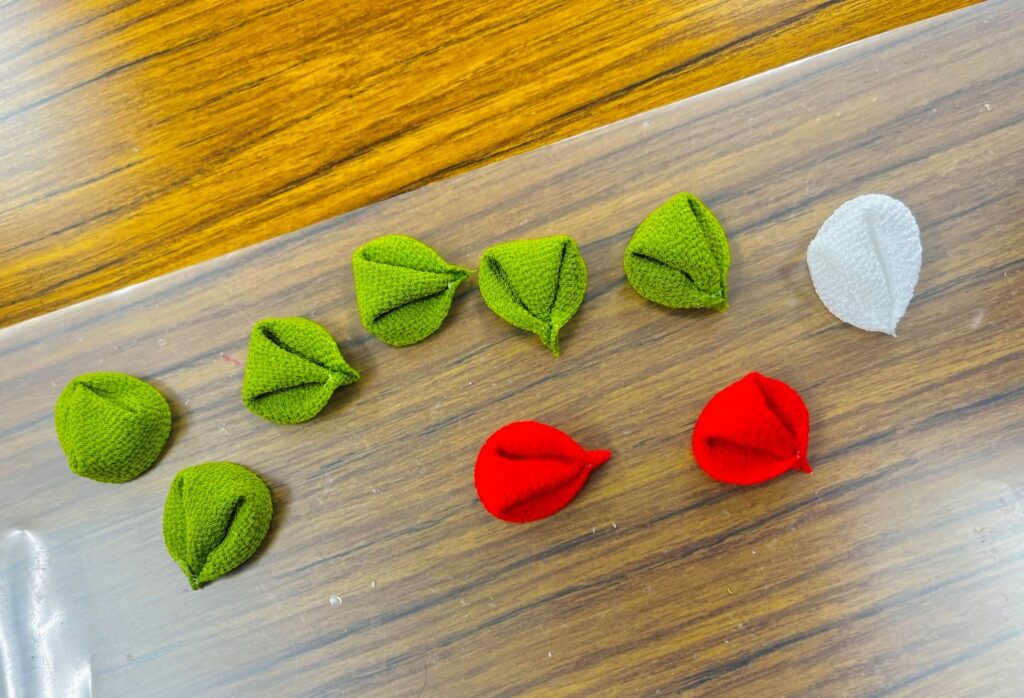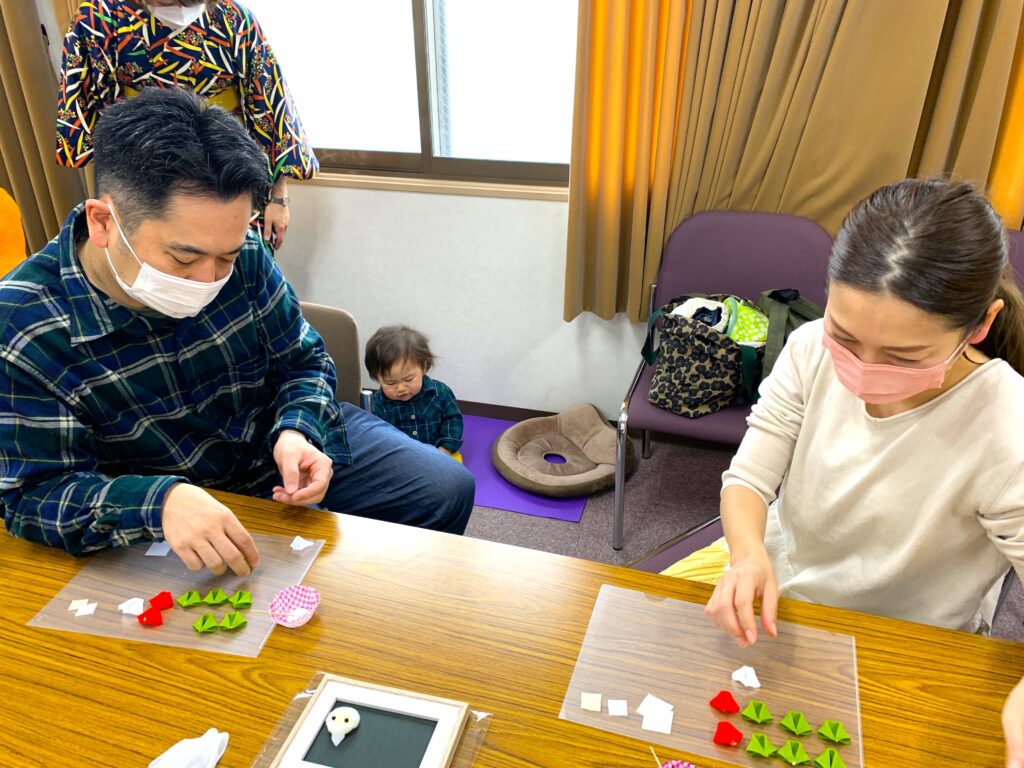 3. KEN (SWORD) TSUMAMI METHOD: SANTA'S MUSTACHE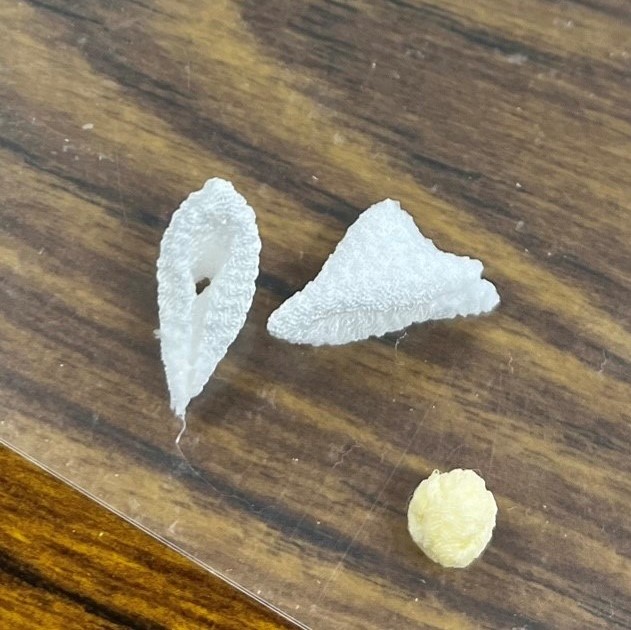 Ken (Sword) Tsumami is also known as a "Sharp pointed Tsumami" and it is simpler than Maru (Round) Tsumami 😉
👉 First, make a triangle by folding a square cloth in half.
Next, fold it in half again to make a smaller triangle.
Fold it half again to make an even smaller triangle.
Glue the bottom.
When pasting the bottom part of the moustache on Santa's face, you have to turn down the extremity.
4. SANTA'S NOSE and BOBBLED HAT
Pick up the small cream color piece of cloth for Santa's nose and then put some glue on it with a toothpick. Roll it up in your hands until you have a little uniform mini-ball. Do the same procedure for the bobble hat by using a small white color piece of cloth. Please look at the photo above for the final result 👆
5. Choose your favorite layout by pasting each little piece of cloth on the inner black and create your own Christmas Frame【Tsumami-zaiku】😃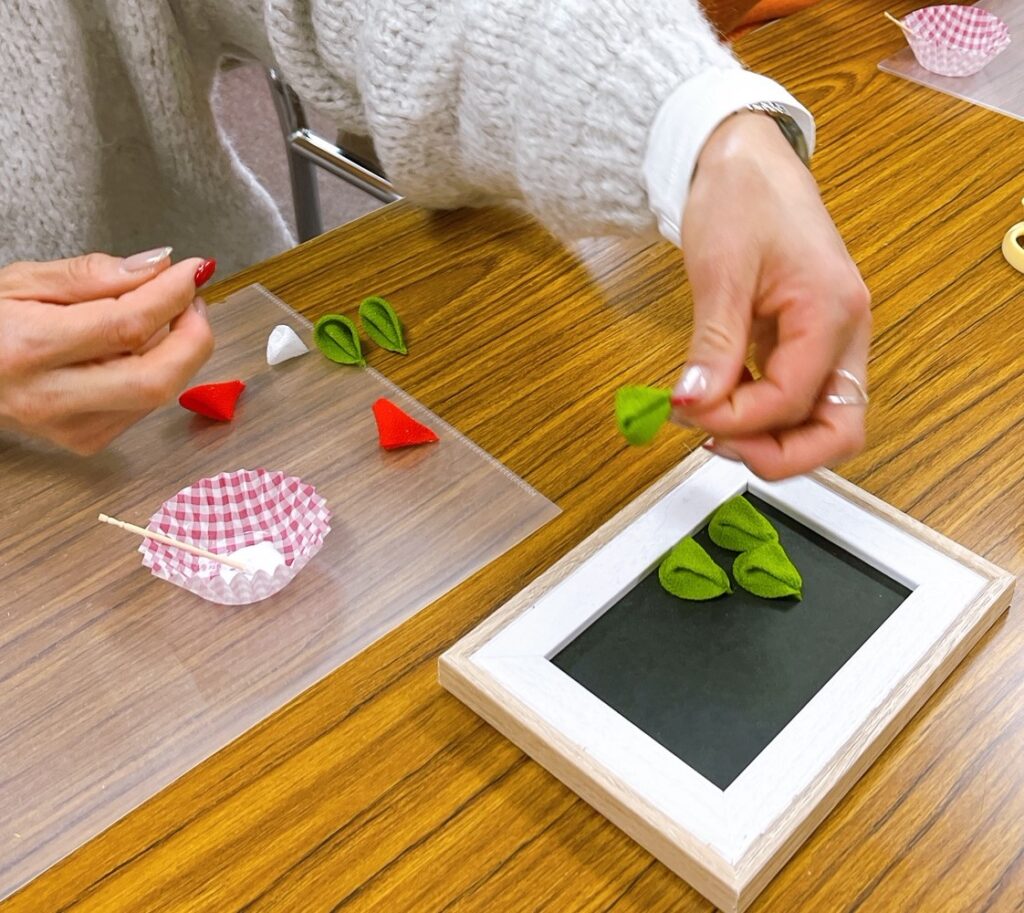 GOOD JOB, EVERYONE‼️💮💯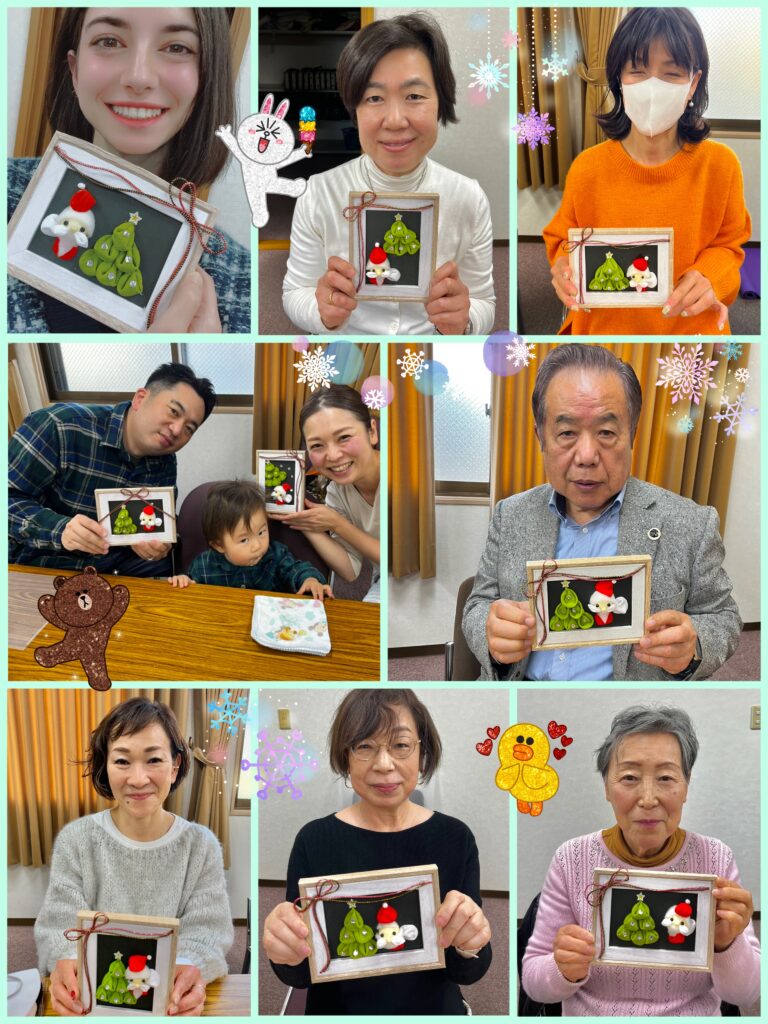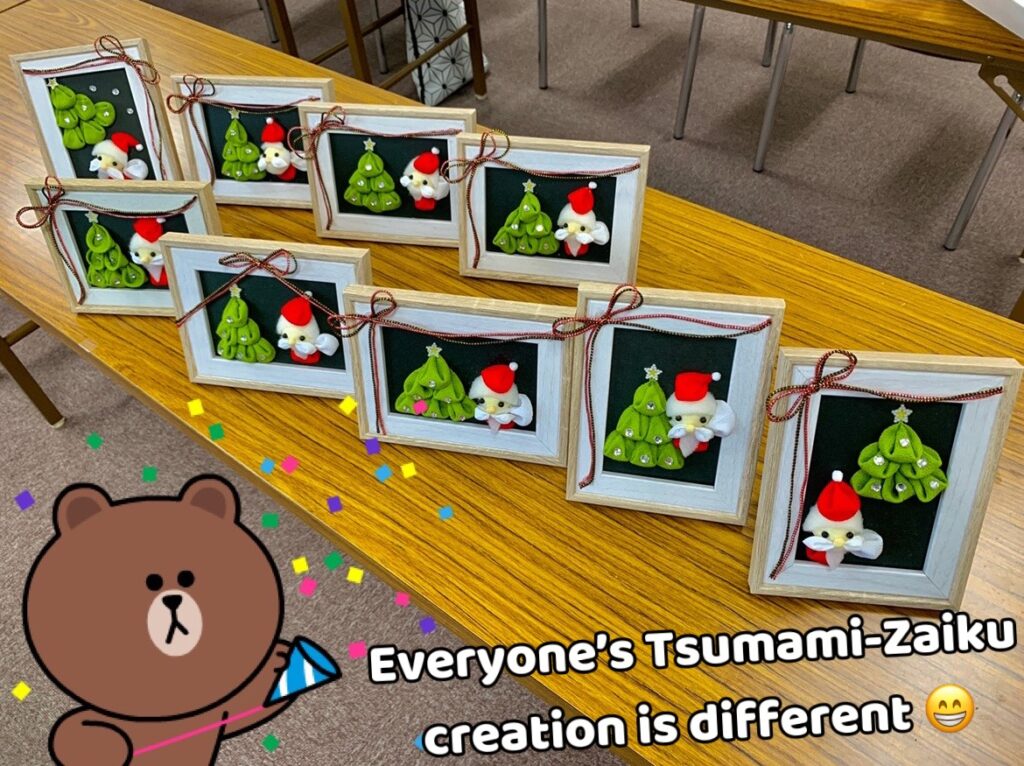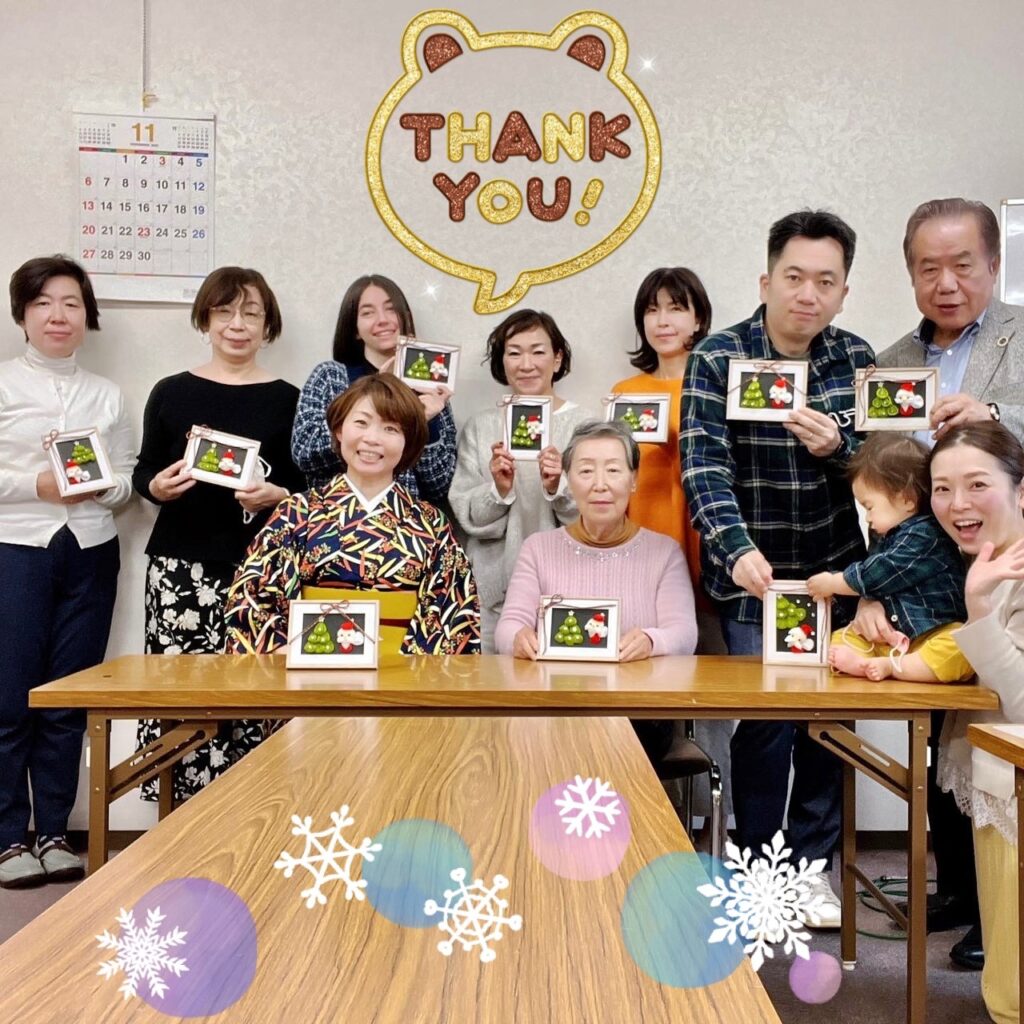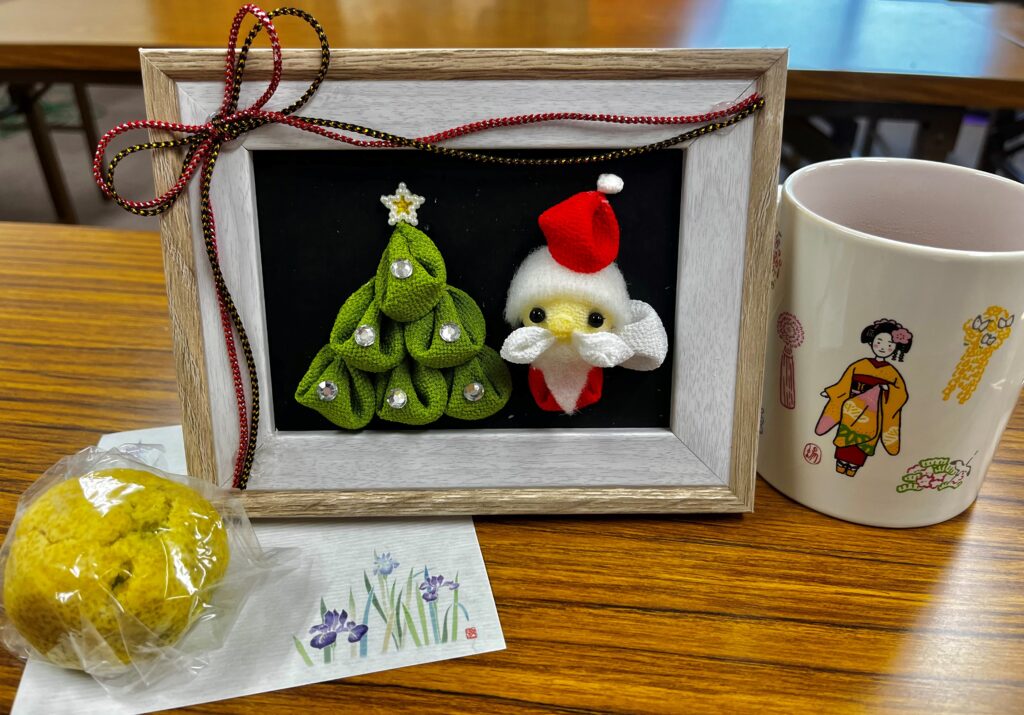 This is my second time trying【Tsumami-zaiku】and I had a lot of fun❗️ The most challenging part was pasting each piece of cloth on the black paperboard inside the frame, above all Santa's red bobbled hat. I felt this time went much better than the last time and I was very satisfied with the final result.
It is really true that practice makes perfect 😁🙌
"Anyone is capable of doing Tsumami-Zaiku. It is important to practice at your own pace without looking at the people around you, there is no need to rush. I like making Tsumami-Zaiku creations according to the seasons: the traditional Japanese calendar marks the passing of the seasons, and the seasonal transition can be felt everywhere, even in our home but perhaps most of us do not realize it. This is why we have to treasure Japanese culture. Once we go home, let's decorate our room with this fresh autumn-themed Tsumami-Zaiku. We will surely feel cheered up."(cit. by Ms. Aya Takeuchi)