Hakone is located in the western Kanagawa Prefecture and it is only 90 minutes from Shinjuku by direct train.
During the Edo Period (1603 – 1868), Hakone was an important checkpoint to control traffic along the Tokaido Road, the highway which linked Tokyo with Kyoto. Nowadays you can walk the same road that Samurai did featuring beautiful cedar avenue that stretches for 500m from Motohakone to Onshi-Hakone. This path, together with the one of Hakone Shrine, is the best if you would like to admire the beauty of secular cedar trees.
Furthermore, Hakone area is part of the Fuji-Hakone-Izu National Park, which is Japan's most visited national park and it is blessed with an abundance of water resources, in fact this City is famous for its hot springs, ryokan, geology activity and the breathtaking view of Mt. Fuji from across Lake Ashi. This makes Hakone the perfect place to spend a some time away from the hustle and bustle of Tokyo.
HAKONE GLASS FOREST
Hakone Glass Forest is run by the Ukai Group, an operator specialized in luxury dinings. It is surrounded by nature and it is located in Sengokuhara, in the northern part of the Hakone Caldera and it is the first museum in Japan specialized in Venetian Glass featuring italian-style buildings, a shop, a museum, an experience studio and a cafe-restaurant where live canzoni (Italian ballads) performances are held.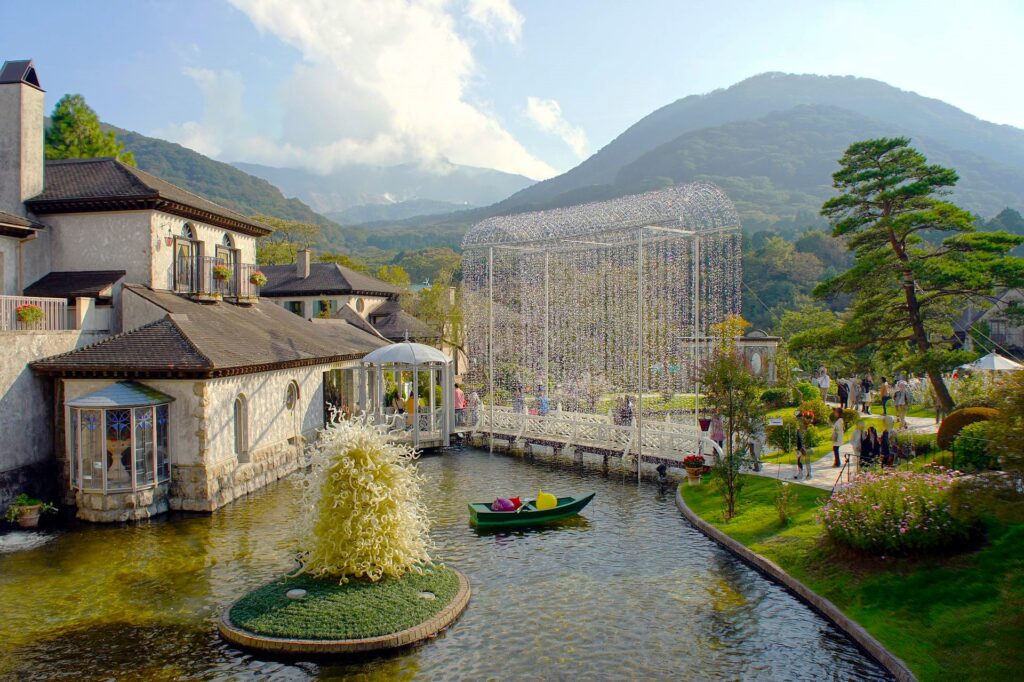 This amazing Complex frames a strolling garden dotted with glass statues at the center of which there is delightful pond enlivened by ducks and the playfulness of the glisten glass thanks to the refraction of light.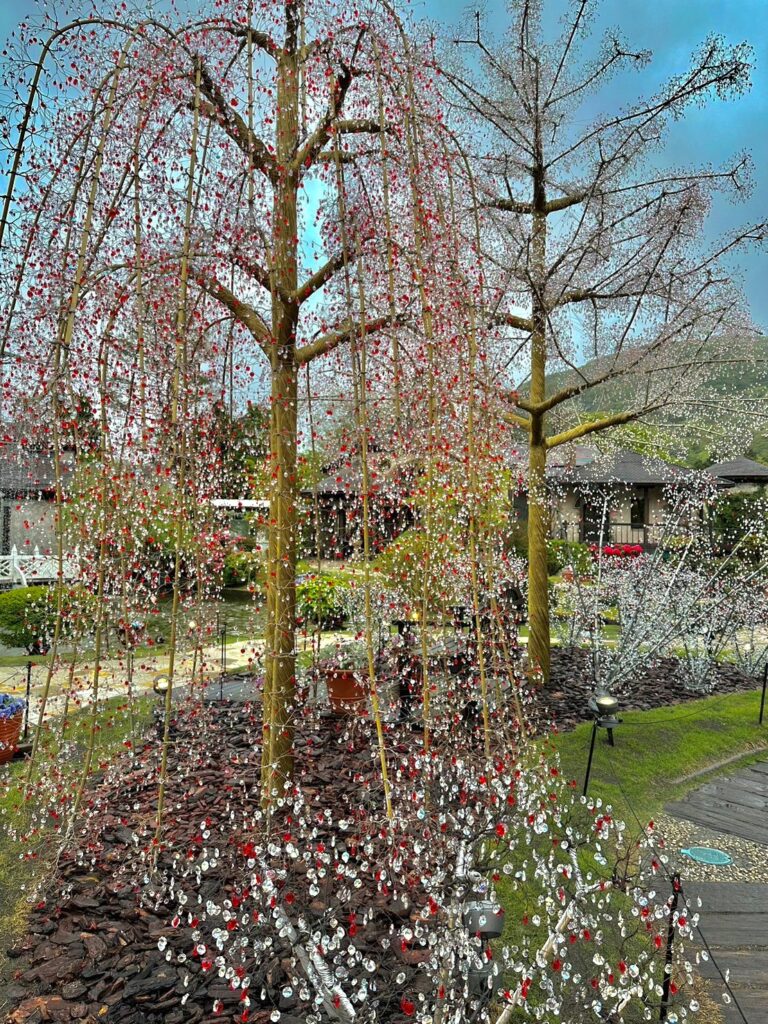 Travelling from SOUNZAN to ŌWAKUDANI
Ōwakudani is accessible from :
Hakone-Yumoto Station > Gora via train (Tozan Ressha)
Gora > Sounzan Station via cable car (Hakone Tozan Cable Car)
Sounzan Station > Ōwakudani via ropeway (Hakone Ropeway)
On Sounzan Station, there is "cu-mo Hakone", a terrace from where you can admire the breathtaking scenery of Hakone volcanic crater, Sagami Bay and Gora city. Moreover, if you would like to relax (you can enjoy a free foot bath), then the second floor offers you a perfect place to rest and shops featuring unique souvenirs.
Ōwakudani (lit. "Great Boiling Valley") is an active volcanic valley and a popular sightseeing spot for its spectacular view of Mt. Fuji and Lake Ashinoko, a perfect place for people who love taking photos or for those who love geology. It was created 3000 years ago following the eruption of the Hakone Volcano. If we look at Ōwakudani from above, it reminds us of Mars surface due to its arid, rocky and reddish landscape featuring bubbling hot sulfur springs and sulfur vents.
Ōwakudani specialty are the renowed "Kuro-Tamago" (lit. Black eggs). They are normal eggs immersed in the volcanic water for an hour at a temperature of 80°C. The water in which they are boiled contains sulfur and iron, which give the shells their unique black color while the inside of the egg remains white and yellow.
It is said that eating one egg will add seven years to your life.
ENJOY A LUXURY-STYLE SIGHTSEEING CRUISE
Lake Ashi is a picturesque crater lake formed 3000 years ago as a result of Hakone Volcano eruption.
You can cross Lake Ashi while enjoying an amazing 40 min. sightseeing cruise featuring three types of pirate ship replica. The route includes three ports: Hakonemachi-ko, Motohakone-ko and Togendai-ko and you can get on and off at any of the three ports. During the cruise you can admire not only the imposing Mt. Fuji in the backgroud but also the Heiwa-no-Torii Gate of Hakone Shrine.
The ships are gorgeous and meticulous in details, inside of the ship features 3D art, pirate objects and even a luxury room.
HAKONE SHRINE
Hakone Shrine is a Shinto Shrine enshrining three God Spirits and it is located on the shores of Lake Ashi. It is a famous landmark thanks to its picturesque landscape, and its origins date back to over 1200 years ago, more precisely to 757. Along the path towards the Shrine a lot of cedar trees of more than 600 years old are lined up creating a mystical and solemn atmosphere, you will also find two renowned sacred trees, the "Anzan Cedar" and the "Yatate Cedar". Many people visit to pray for safe childbirth at the Anzan Cedar, or to win a competition at the Yatate Cedar.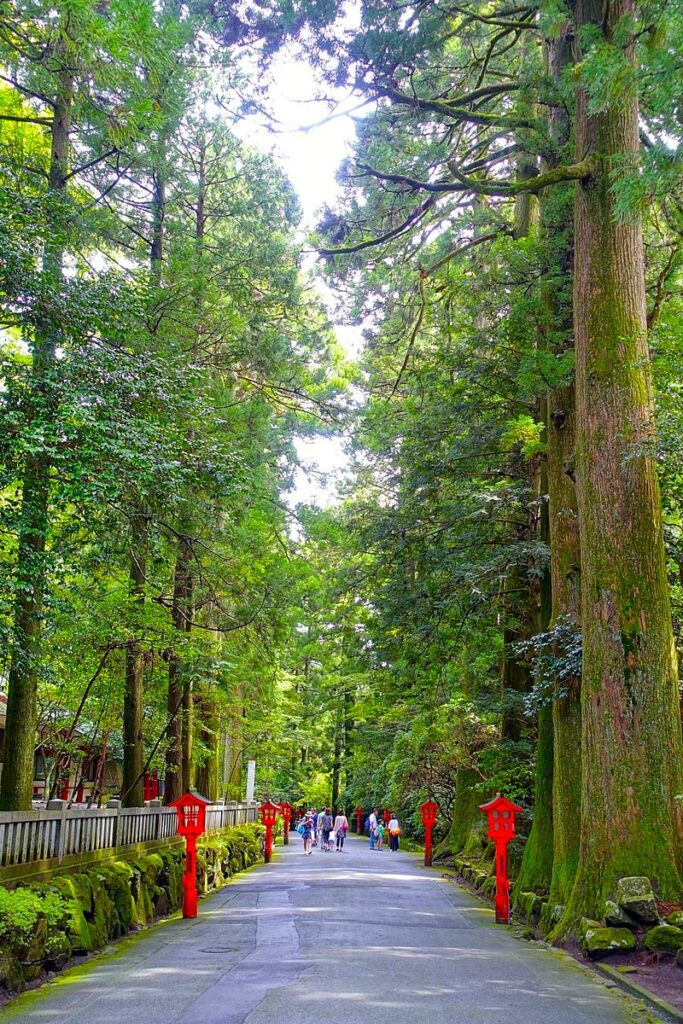 This Torii Gate was built over the water and represents Hakone Shrine's most famous landmark. Moreover, it indicates the "entrance" to Hakone Shrine from the shore of Ashinko Lake as well as the commemoration of the Treaty of Peace which Japan concluded with 48 nations to formally end World War II.