We would like to introduce《Japan Folk Festival in Hanoi》to you. It was held at the Hanoi Opera House (Vietnam) in November 2019.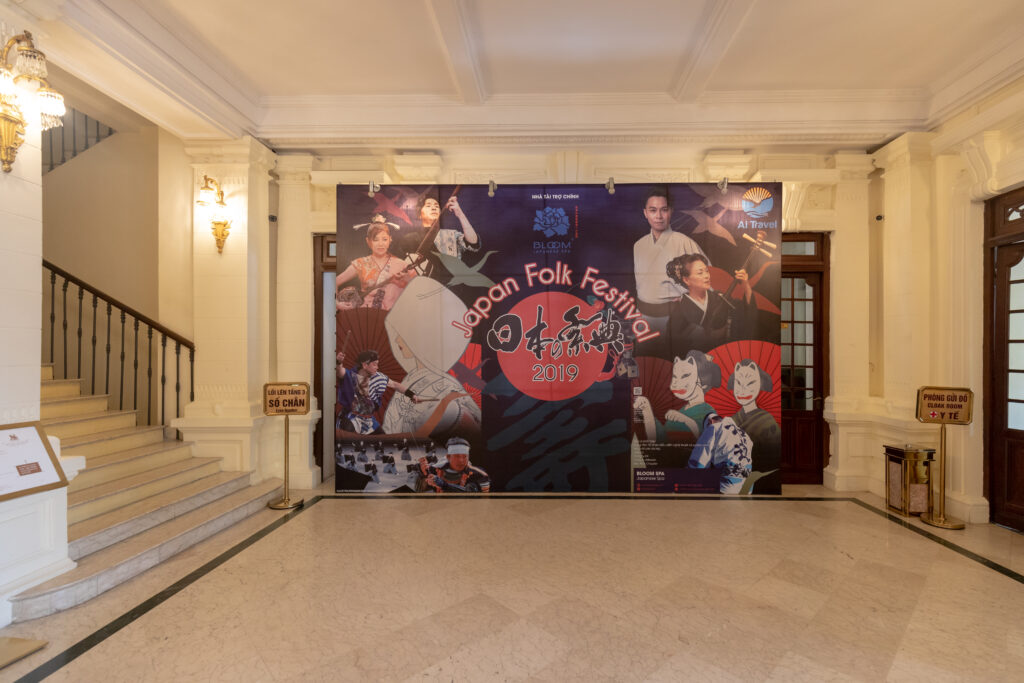 About our Japan Folk Festival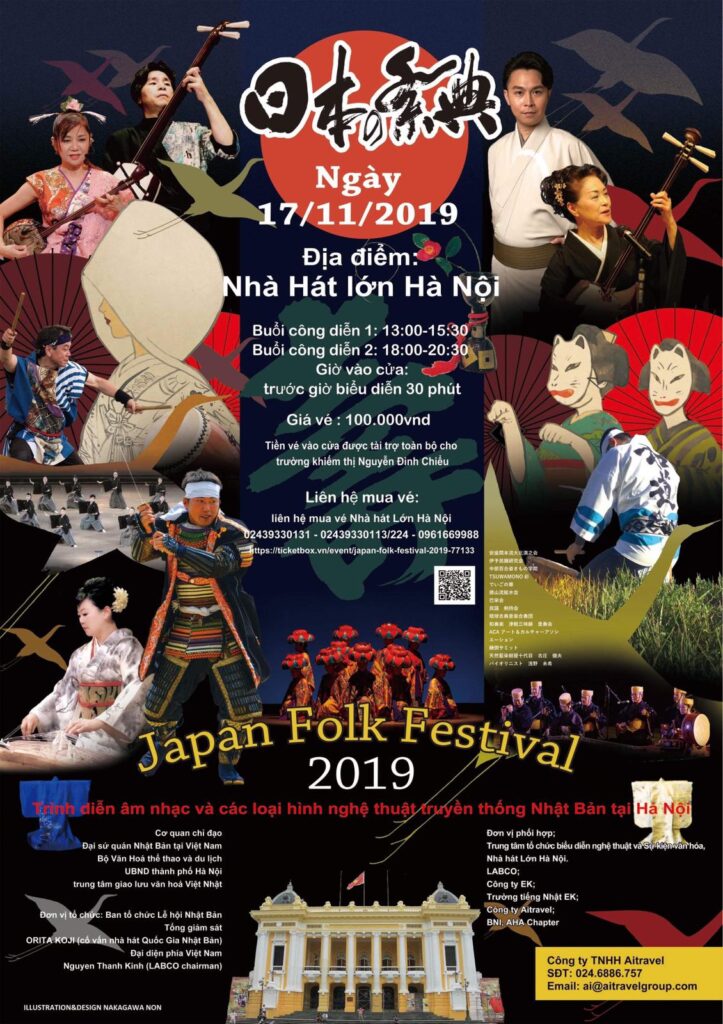 Japan Folk Festival in Hanoi 2019 flyer (in Vietnamese)
《Japan Folk Festival》is a charity concert with the purpose of spreading the traditional Japanese art and culture all over the world.
The starting point was Carnegie Hall (New York). Then we held this Festival in Munchen, Germany, (2011), in Milan, Italy, (2015) and in other countries.
Please click here if you wish to know more about our first "Japanese Folk Festival" related to the encounter with Mr. Rocky Aoi. 🌝
Let us introduce all the performers to you!
(Random order, titles omitted)
Chūbu Yuri Sugata Kimono no Gaku-In (Gifu City, Gifu Prefecture)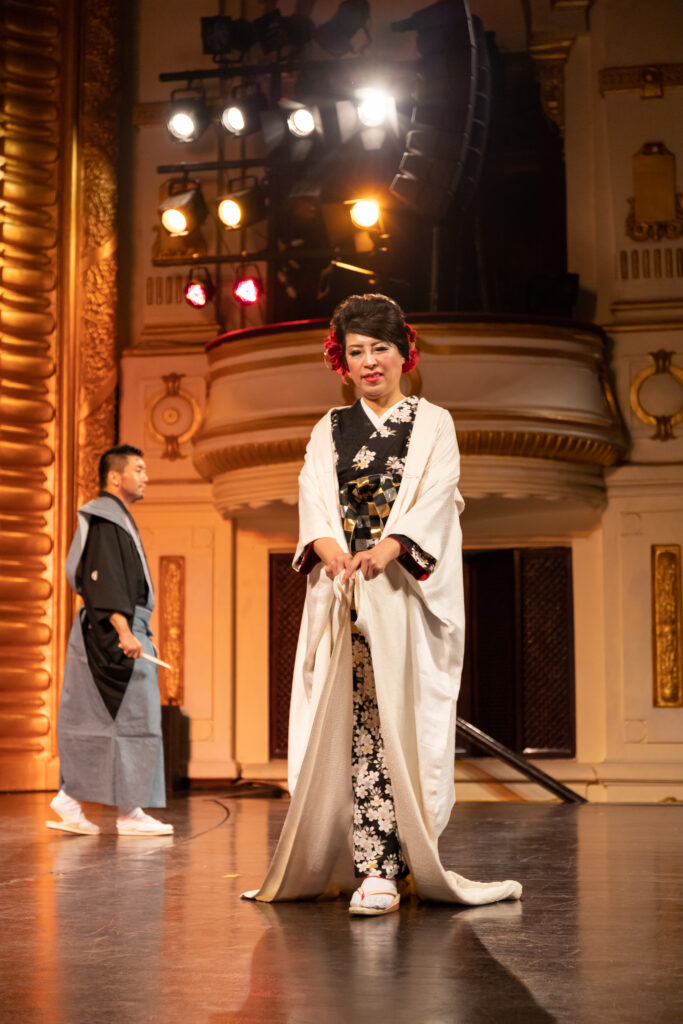 Chūbu Yuri Sugata Kimono no Gakuin (Chubu Yuri Sugata Kimono Academy) provides guidance for both spirit and technique in order to express the happiness and the beauty of wearing Kimonos.
They are promoting traditional costumes actively, focusing on dressing experiences, demonstrations of wearing Kimonos and Kimono fashion shows.
Wasougaku Tsugarusyamisen Riso-Kai (Gifu City, Gifu Prefecture)
Wasougaku Tsugarusyamisen Risou-Kai has a lot of collaboration with other instruments creating new genres that overcome the pleasure of music.
This time they collaborated with Taiko Japanese Drum (Wadō Representative Mr. Hatano Shōdai).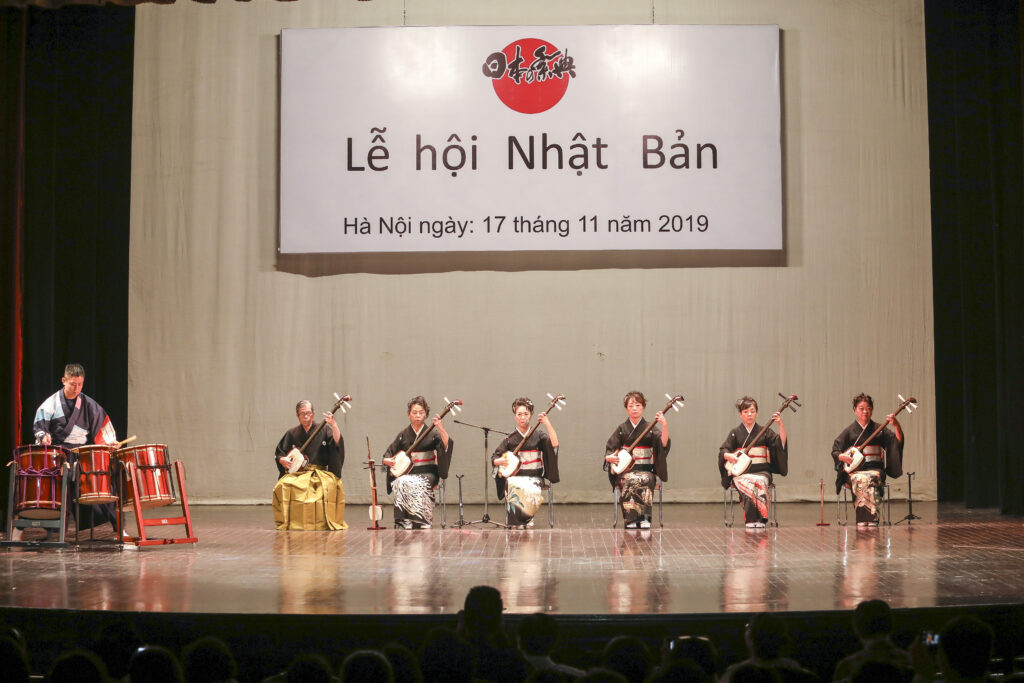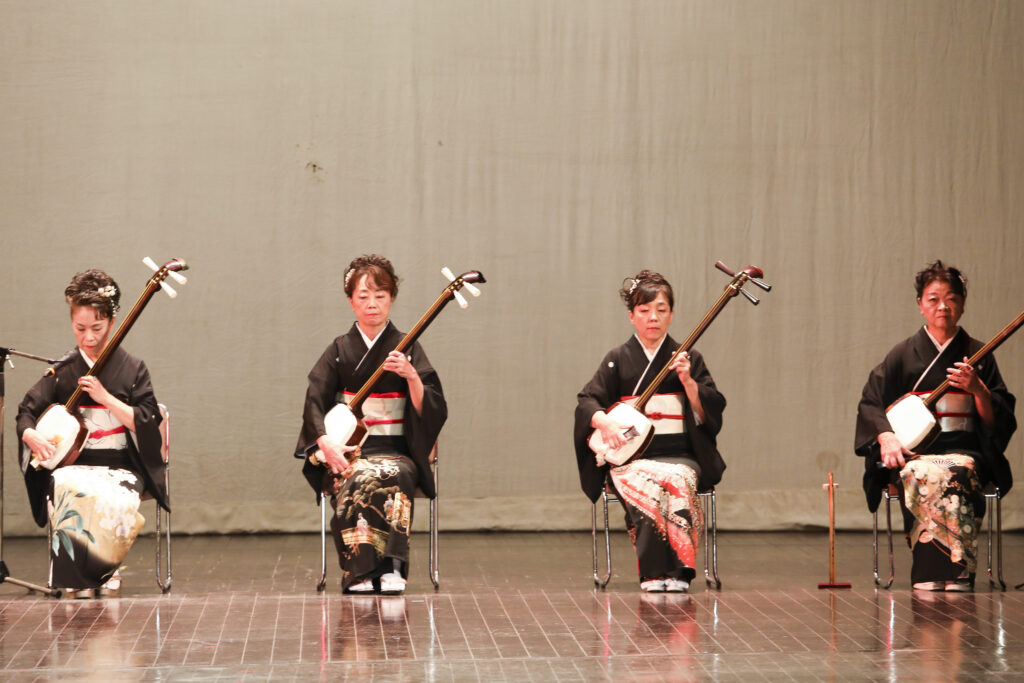 Min'Yō Kenkyukai(Matsuyama City, Ehime Prefecture)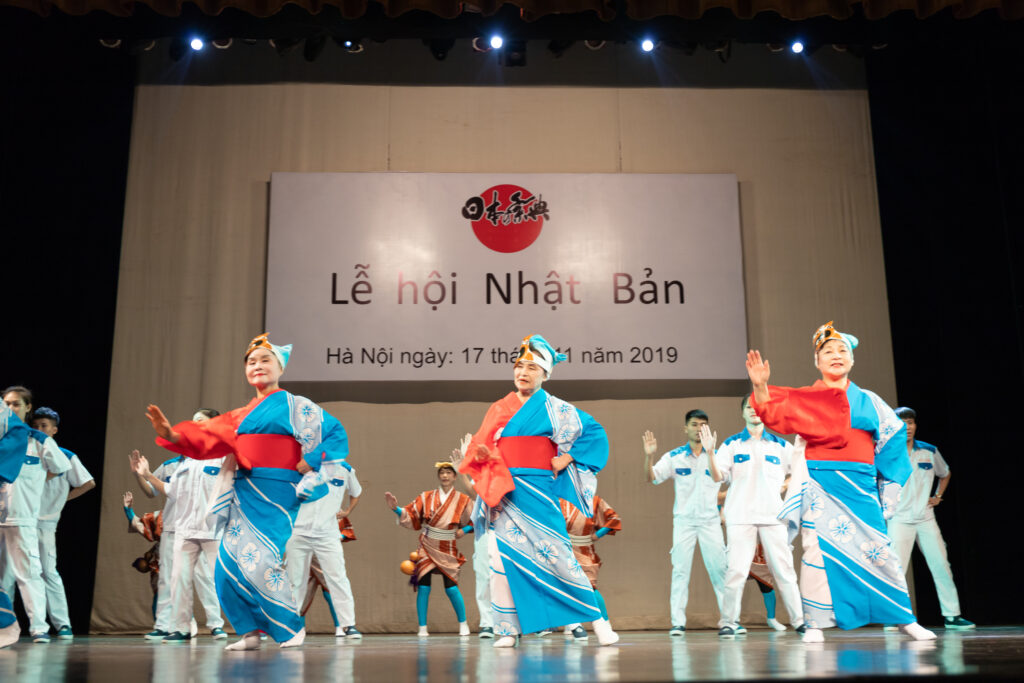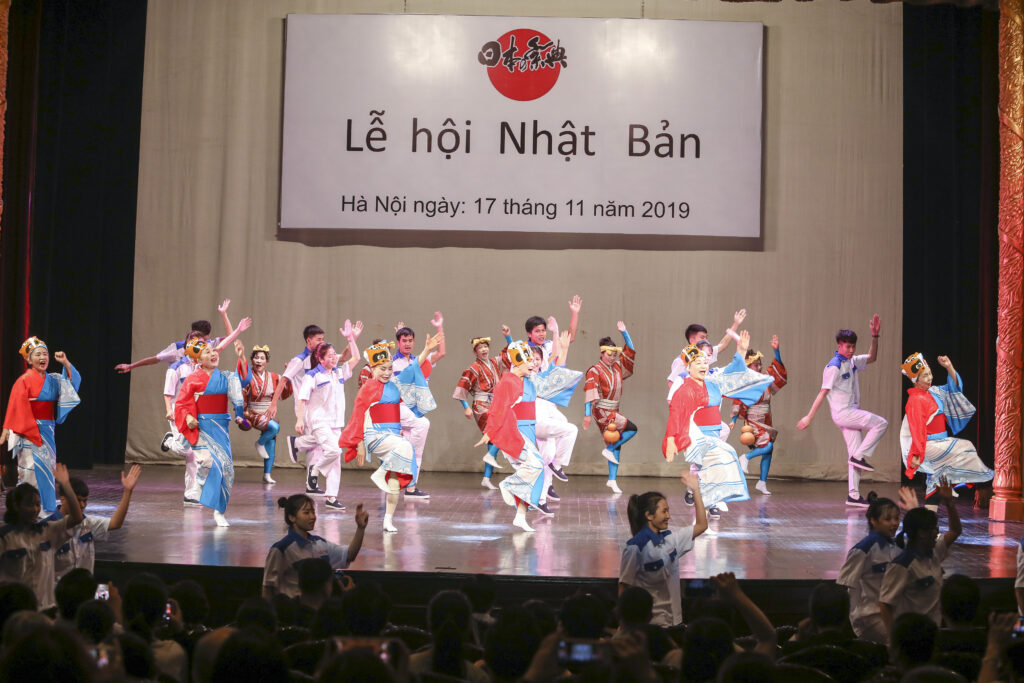 Iyo Min'Yō (Iyo Folk Song) is a Zashikiuta (One of the Folk Songs) of the Iyo Matsuyama Region
At Iyo Min'Yō Kenkyukai, people of all ages enjoy not only folk dance but also "enka" (a genre of Japanese popular music resembling traditional Japanese music).
TSUWAMONO Sai(Nagoya City, Aichi Prefecture)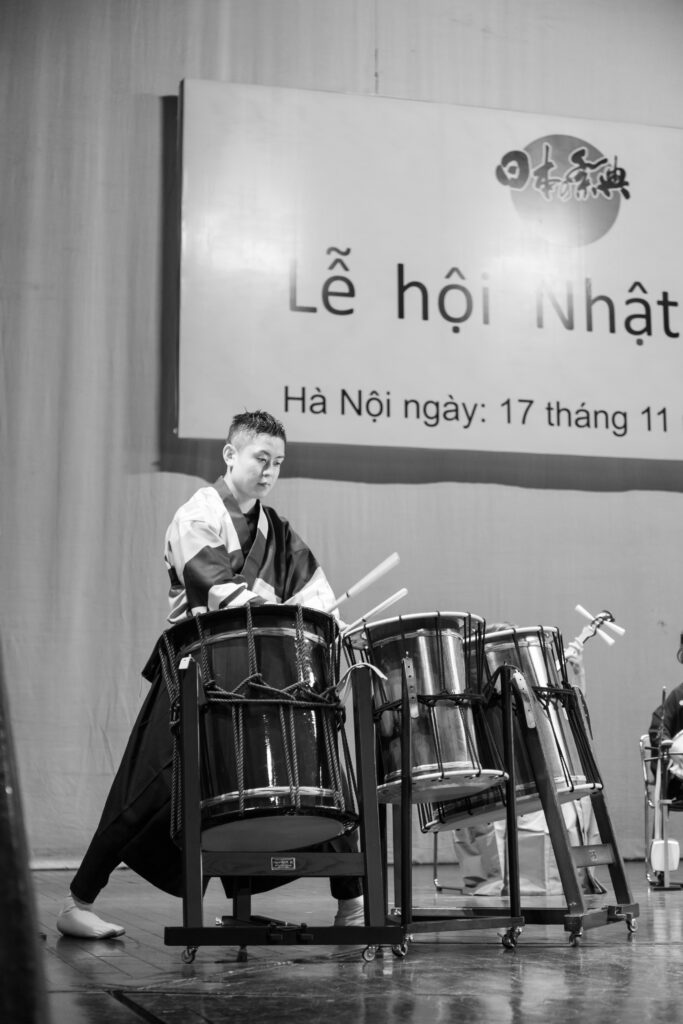 TSUWAMONO Sai is a group specialized in Japanese musical instruments and based in Aichi Prefecture
They collaborate not only with other groups on playing Japanese musical instruments but also with people on performing sword-dance. Spectacular!
ACA (Art and Culture Association)(Nagoya City, Aichi Prefecture)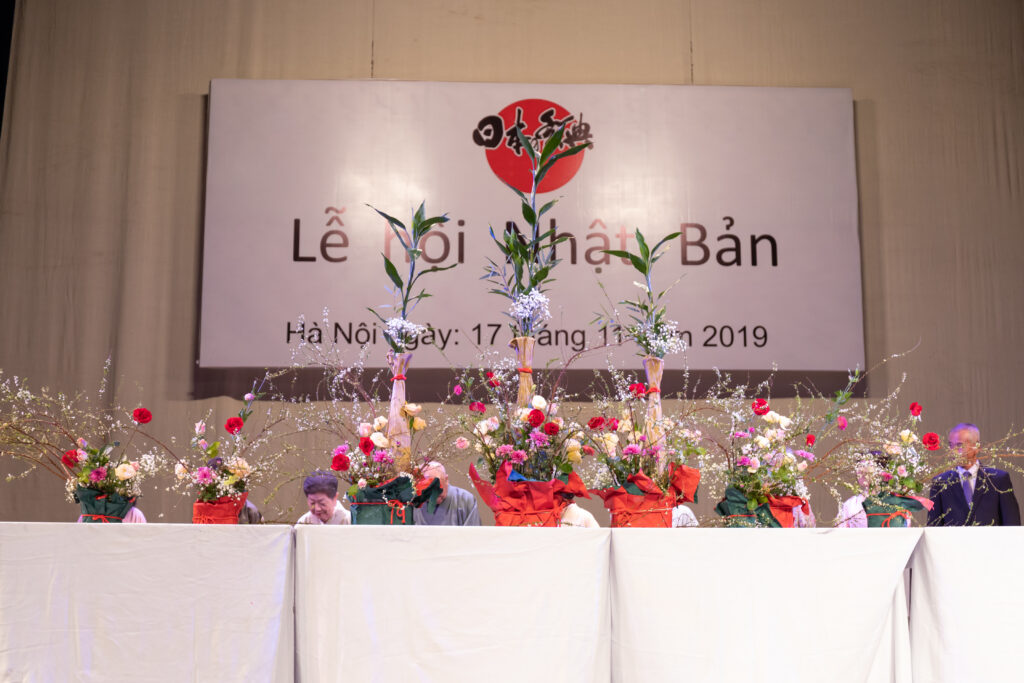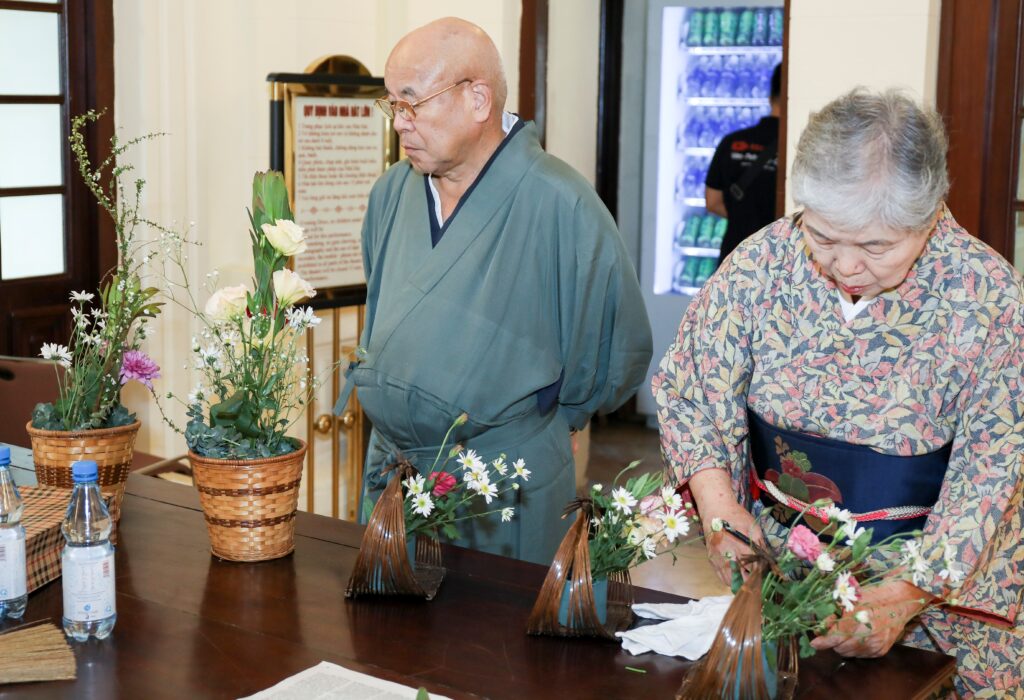 ACA contributes to culture exchange and international goodwill through Ikebana (flower arrangement).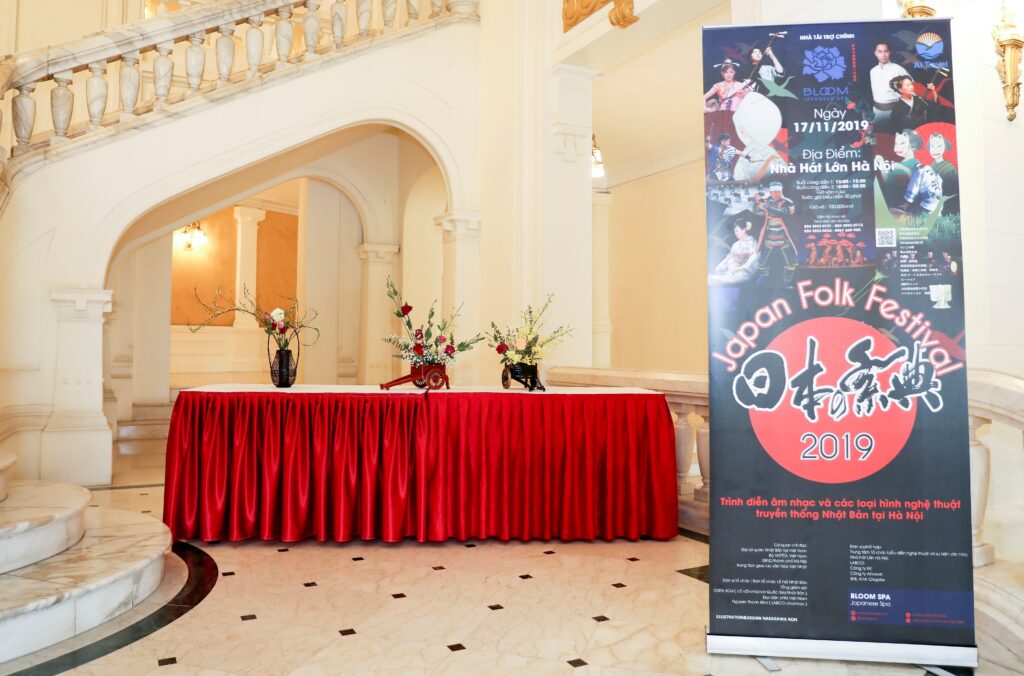 We displayed Ikebana not only during the flower arrangement show but also in the entrance hall. 🌸
Violinist Ms. Asano Miki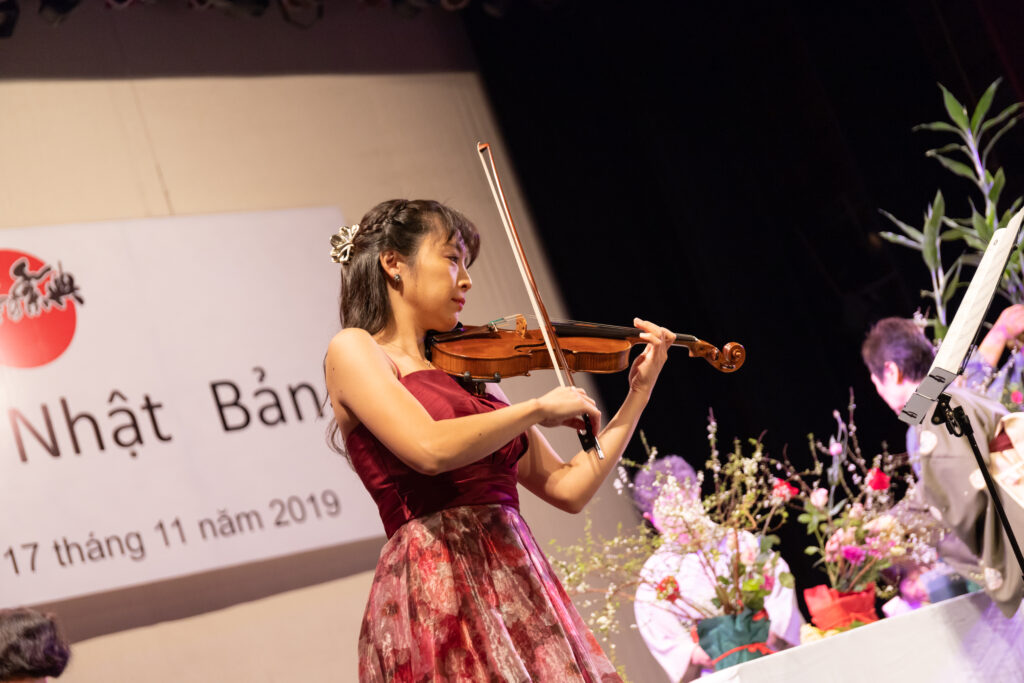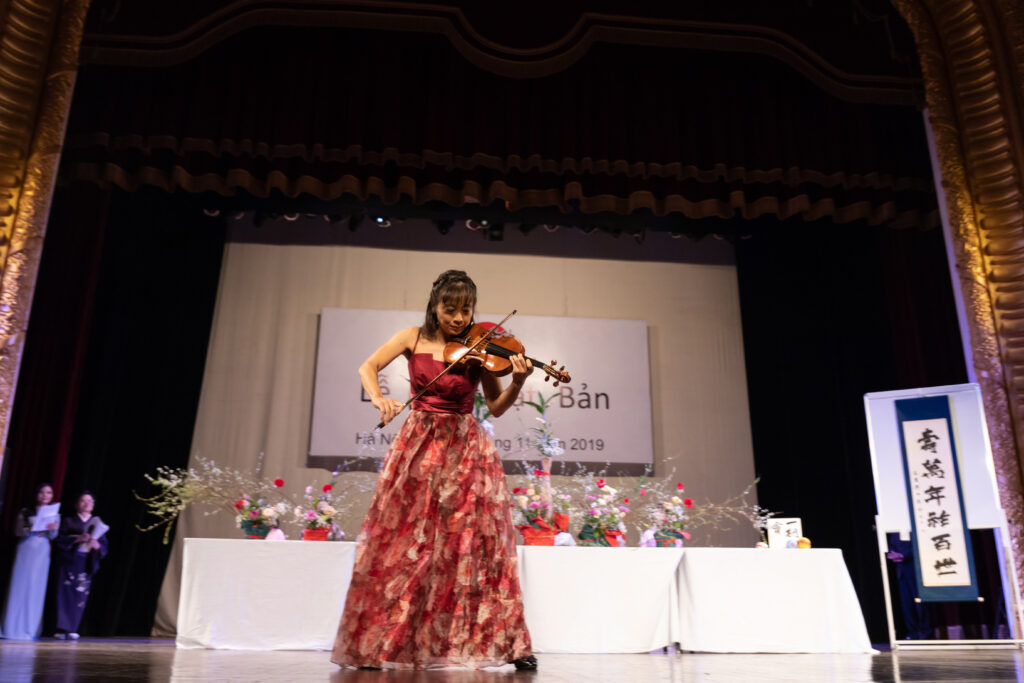 Ms. Asano Miki graduated from Tōkyō University of the Arts-Department of Music, then she completed the Hungarian Listz Conservatory. She won a lot of awards, she is active mainly in Europe and Japan.
The elegant violin tone was so beautiful in front of the bright flower arrangement. 💛
Deigo no Hana (Okinawa Prefecture)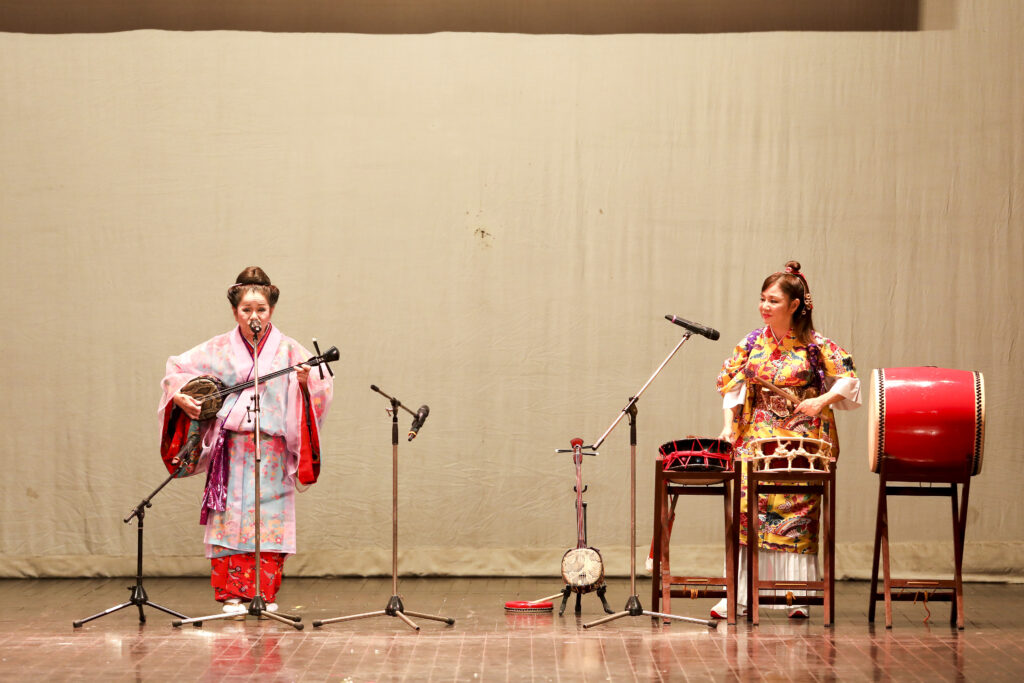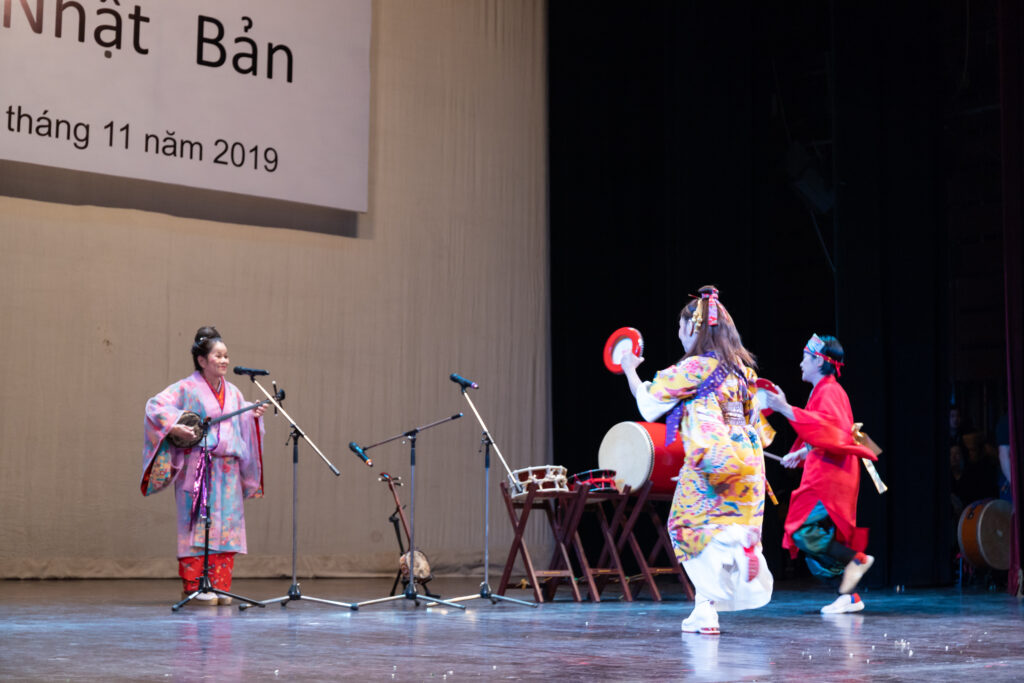 Deigo no Hana is a creative group of Okinawa, they sing and drum a special melody of Okinawa Prefecture using the special and peculiar melody of Okinawa.
Ms. Higa keiko, the representative, released also a CD. 🎵
Azama Honryu Uu-Funishi Mitsu-no-Kai(Okinawa Prefecture)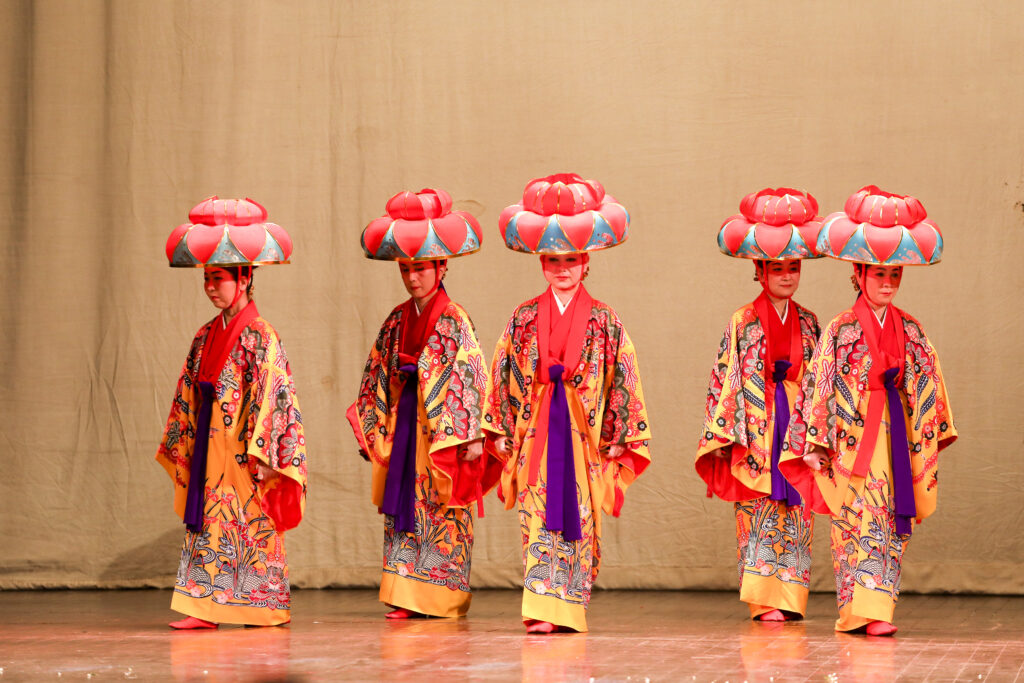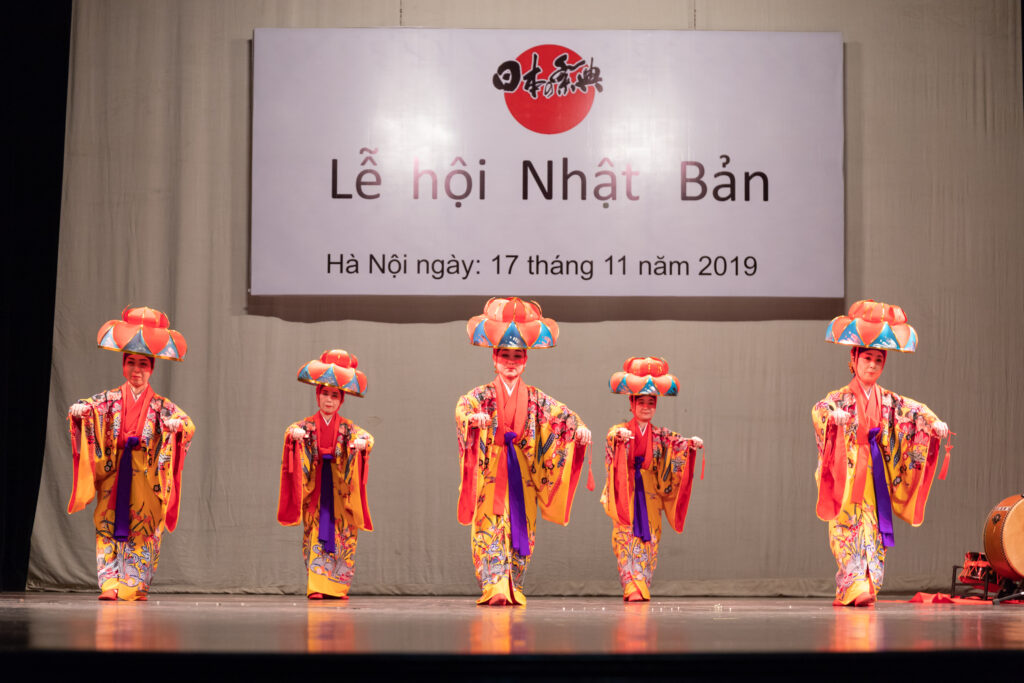 "Ryukyuan Dance" is a general term that defines the traditional Okinawa dance performed during the Ryukyu Era. In 2009, it was designated as a UNESCO intangible cultural heritage and as a general term indicating traditional dance.
You will be surely attracted by those elegant dance moves and those vivid dresses!
Ryukyu Koten Ongaku Gasso-Dan(Okinawa Prefecture)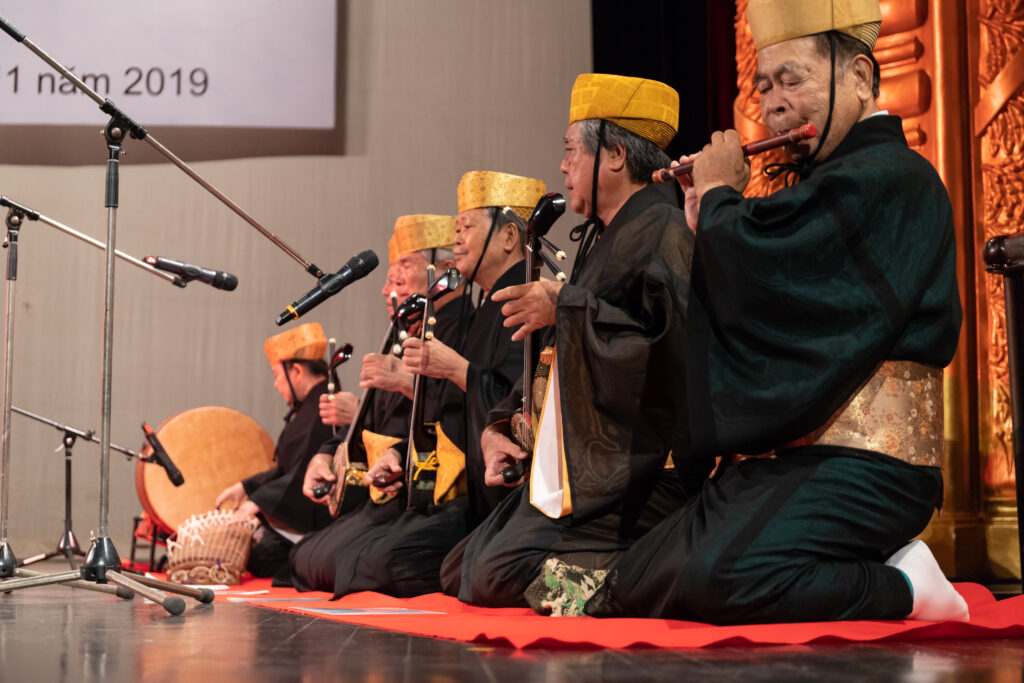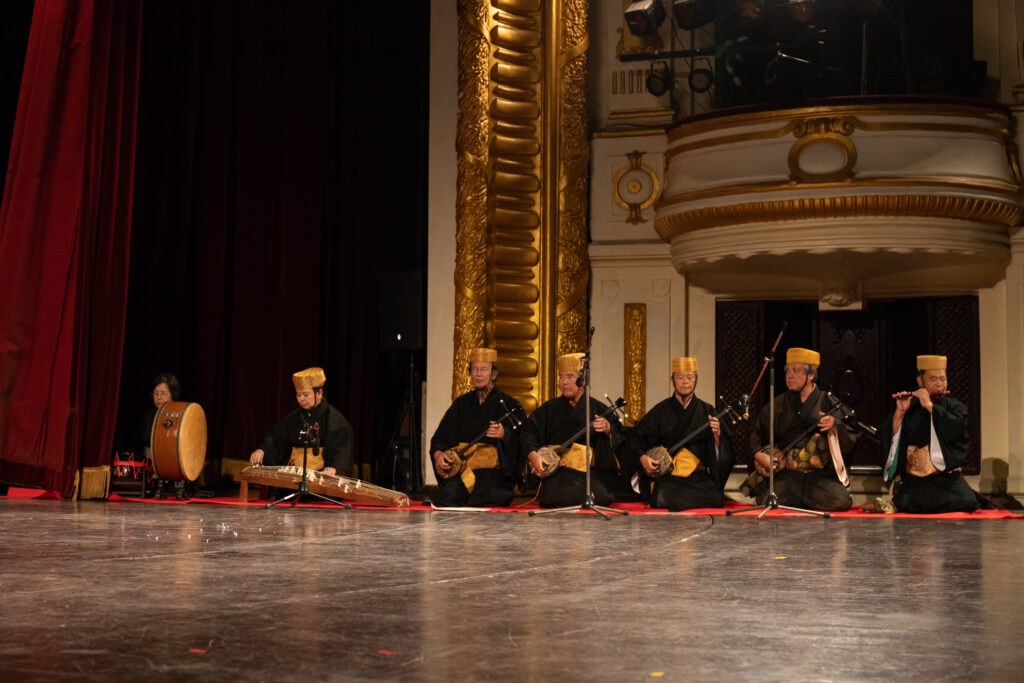 The Ryukyu classical music Ensemble is indispensable during Ryukyuan Dance.
Without this music, it would not be a Ryukyuan Dance!
Min-Yō Kemmochi-Kai (Nagoya City, Aichi Prefecture)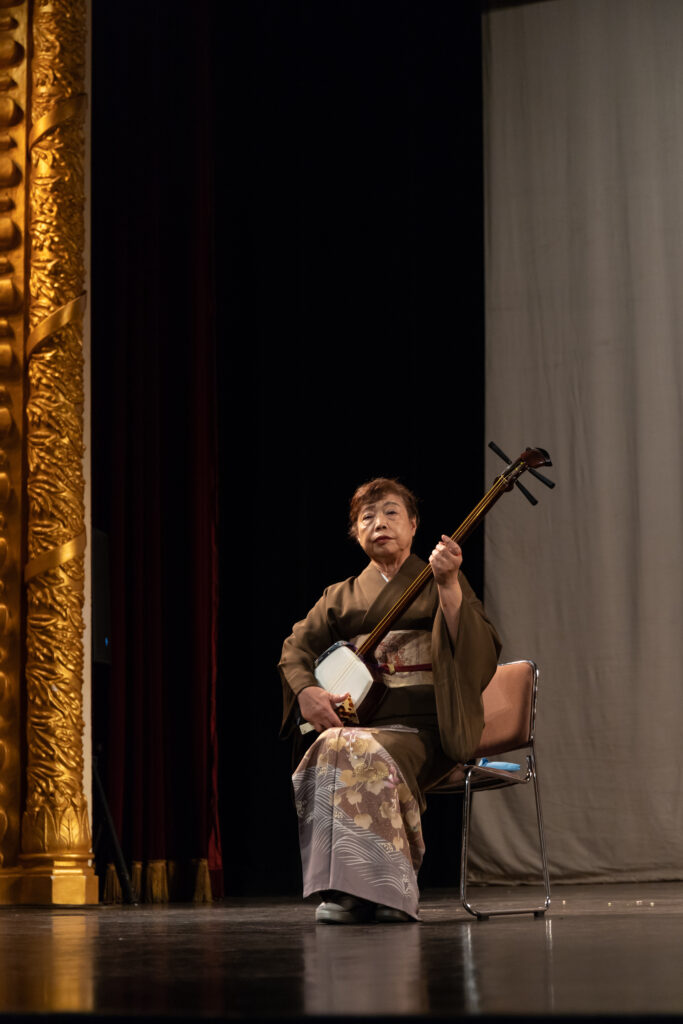 Mr. Kemmochi Yusuke is Kemmochi-Kai's representative and in order to spread words about/ Folk Songs, he is active in a wide range of fields such as television and radio!
Moreover, he is not only a traditional Folk Song singer but he also appears on stage as a Japanese drum and shamisen player.
He can sing all Traditional Japan Folk Songs but he is specialized in Niigata ones.
Tomoe-Kai (Nagoya City, Aichi Prefecture)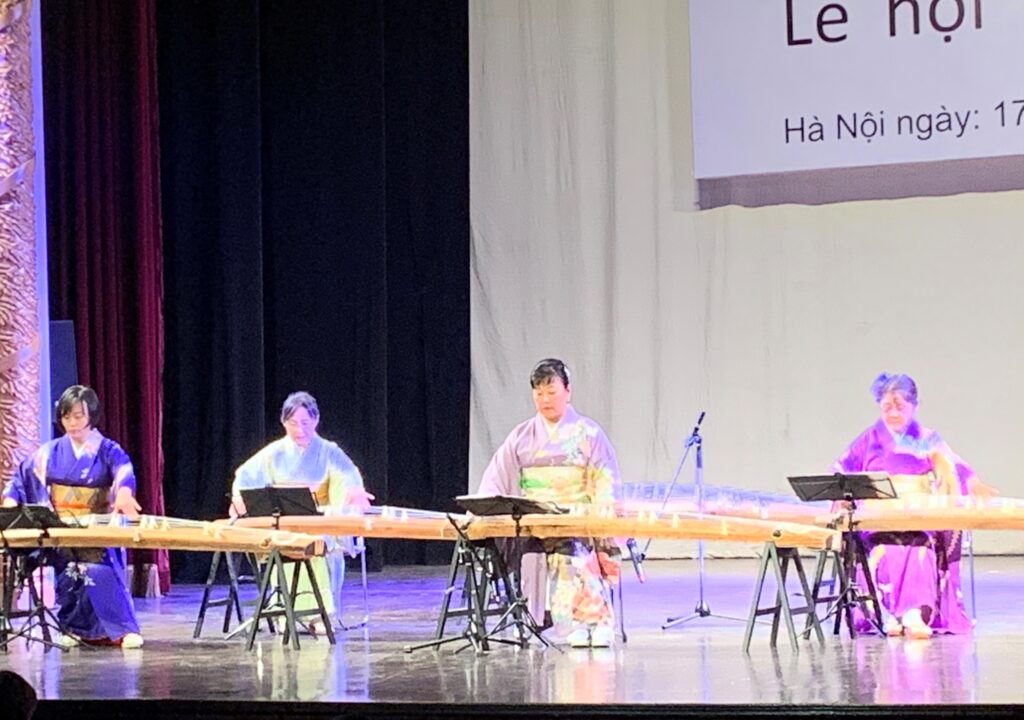 Tomoe-Kai is a Koto group based in Nagoya City (Aichi Prefecture), they participated also in Dubai Expo.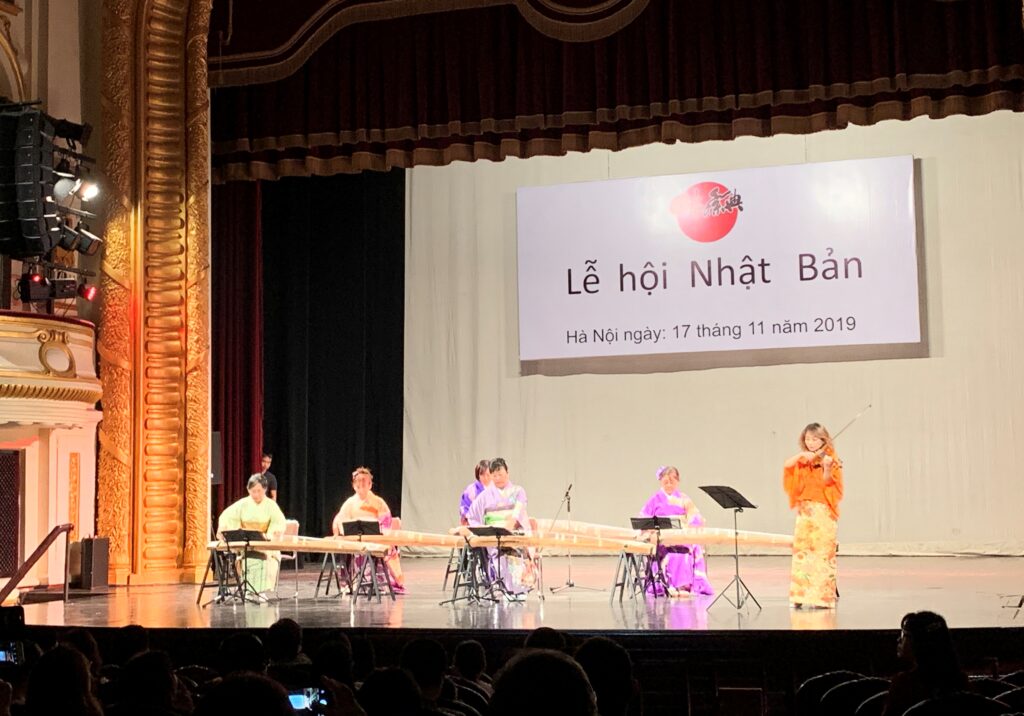 In this photo, we can see the collaboration between Tomoe-Kai and Yoshie Ohashi, a violinist who is developing stage activities based on classical music regardless of genre😳
Tokuyama-Ryu Gensui-Kai (Gifu Prefecture)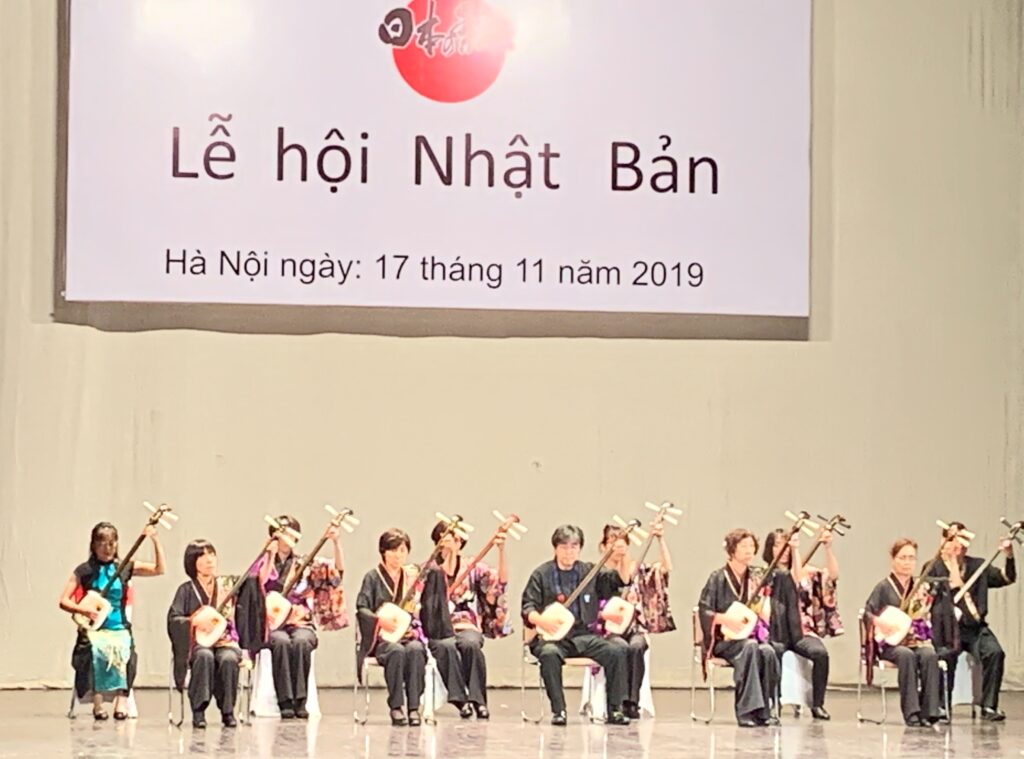 Tokuyama-Ryu Gensui-Kai is a Shamisen group that performs performance activities not bound by genre, integrating the characteristics of JAZZ and ROCK.
We could not take our eyes off that perfect coordination!😁
Engawa Summit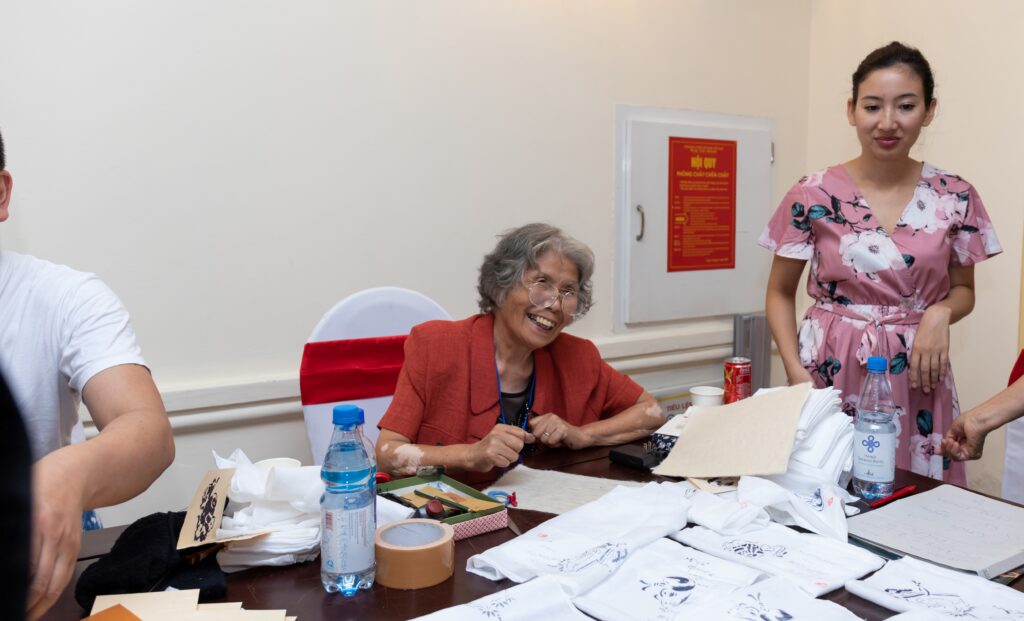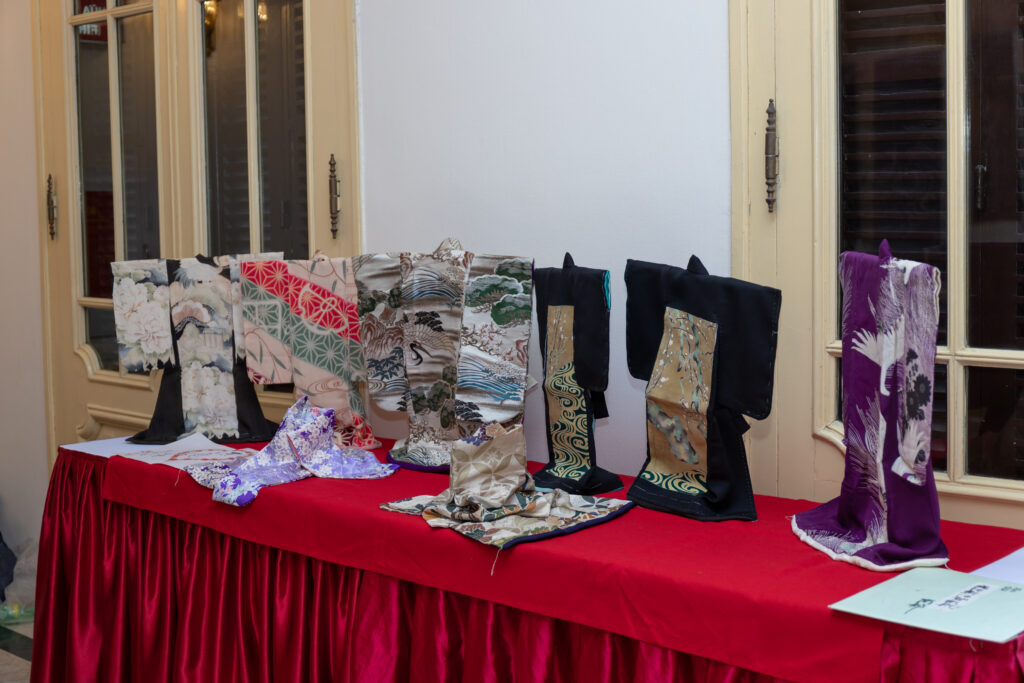 We can make pieces of old clothing or old kimonos we do not use anymore into charming accessories such as mini kimono, dolls and so on.
We teach people the "fun of creating" together! She wrote those kind words in the notebook using an indigo colour.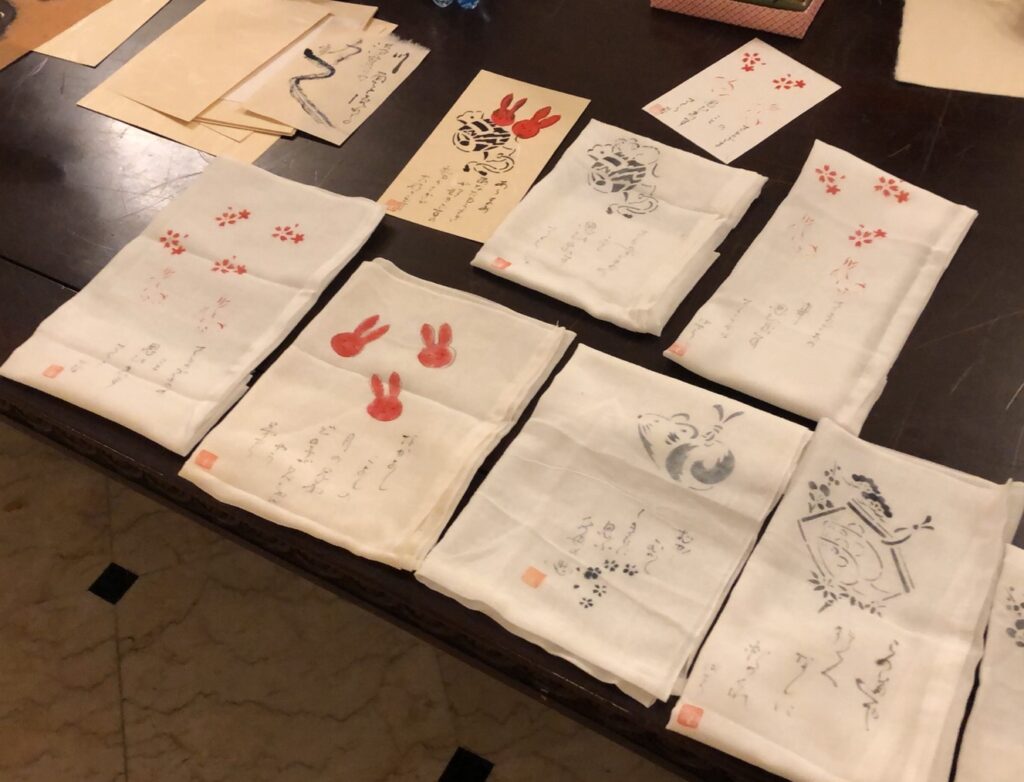 ☝ Ms. Nanbu used an indigo colour to draw illustrations and letters on hand towels and postcards.
Then we distributed them as souvenirs to the customers who came to see the performance
Ten'nen Aizome Kon'ya Jū Dai Me Takeo Furusho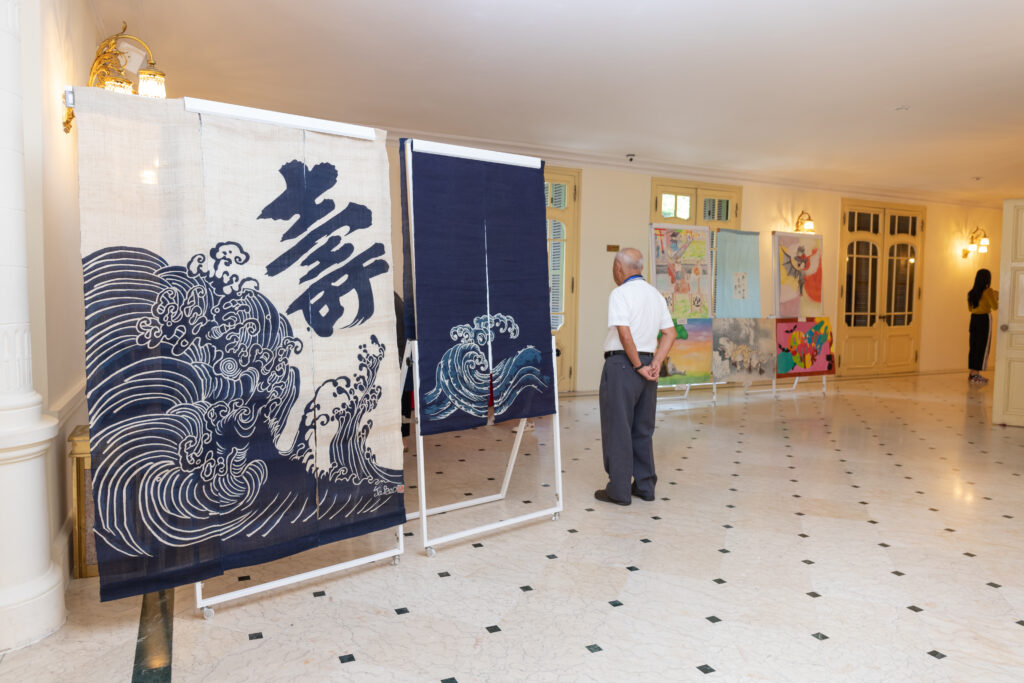 Aizome is a traditional hand-dye method in Tokushima Prefecture.
This method is gentle on the skin and it is completely natural as it uses only fermented indigo colour and natural plant dye. Moreover, it has an insect repellent and deodorant effect.
This is an exhibition showing all works that used the particular shades of Indigo colour.👍👍
General Supervisor Mr. Orita Koji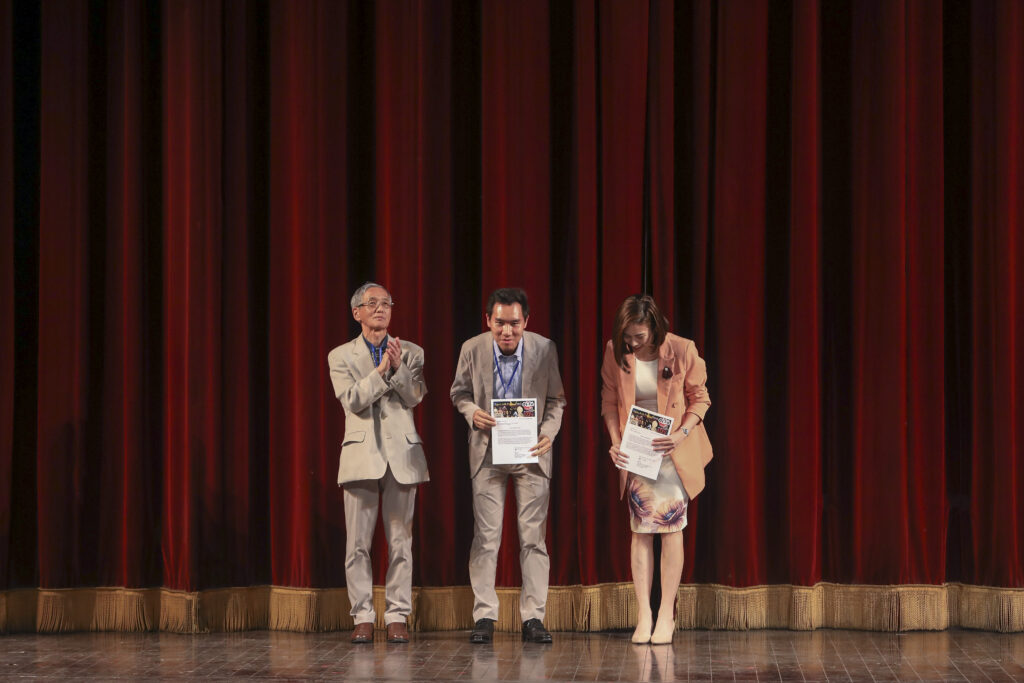 Mr. Orita (the person on the left) is the stage supervisor!
Thanks to "Japan Folk Festival in Hanoi" we enjoyed plenty of traditional performing arts all over the Country!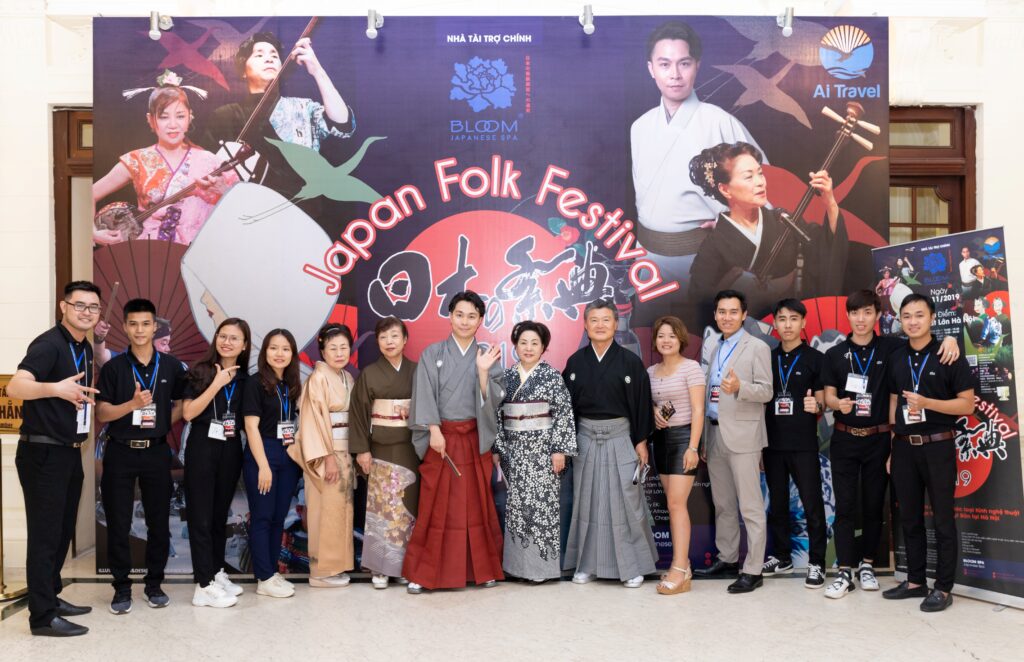 Kemmochi-Kai and the students of the Japanese Language School in Hanoi, they all helped us.
Thank you very much for your participation and cooperation!👏